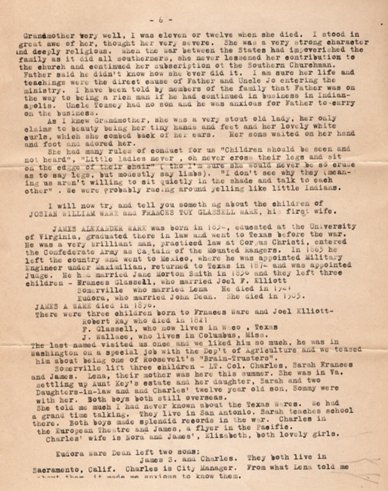 Original page 6
32.

. . . Grandmother very well, I was eleven or twelve when she died. I stood in great awe of her - thought her very severe. She was a very strong character and deeply religious. When the War Between the States had impoverished the family as it did all southerners, she never lessened her contribution to the church and continued her subscription of the Southern Churchman. Father said he didn't know how she ever did it. I am sure her life and teachings were the direct cause of Father and Uncle Jo entering the ministry. I have been told by members of the family that Father was on the way to being a rich man if he had continued in business in Indianapolis. Uncle Tousey had no son and he was anxious for Father to carry on the business.
33.

As I knew Grandmother, she was a very stout old lady, her only claims to beauty being her tiny hands and feet and her lovely white curls, which she combed back of her ears. Her sons waited on her hand and foot and adored her.
Even Josiah's son, Charles Ware, jokingly wrote, "my half-brother Jack . . .told his mother [Edmonia] that she was the cause of their being so homely – for Pa's children by his first wife were not."
34.

She had many rules of conduct or us - "children should be seen and not heard", "little ladies never, oh never cross their legs and sit on the edge of their chair" (though I'm sure she would never be so crude as to say legs, but modestly say limbs." "I don't see why they (meaning us) aren't willing to sit quietly in the shade and talk to each other." We were probably racing around yelling like little Indians.
35.

I will now try and tell you something about the children of JOSIAH WILLIAM WARE and FRANCES TOY GLASSELL WARE, his first wife.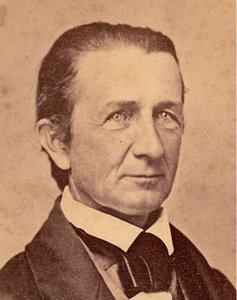 Josiah William Ware – photo owned by James & Judy Ware
36.

JAMES ALEXANDER WARE was born in 1832, educated at the University of Virginia, graduated there in law and went to Texas before the war. He was a very brilliant man, practiced law at Corpus Christi, entered the Confederate Army as Captain of the Mounted Rangers. In 1865 he left the country and went to Mexico, where he was appointed Military Engineer under Maximillian, returned to Texas in 1872 and was appointed Judge. He married Jane Morton Smith in 1856 and they left three children:
Frances Glassell, who married Joel F. Elliott
Somerville who married Lena. He died in 1921.
Eudora, who married John Dean. She died in 1905.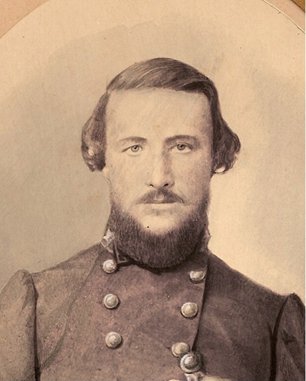 James Alexander Ware - Photo owned by James and Judy C. Ware
James graduated from the University of Virginia in 1851. He moved to Texas in 1855/1856 and practiced law in Corpus Christi. He and Jane Morton Smith wed on Nov. 26, 1856. When the Civil War broke out, James stayed in Corpus Christi serving as an officer in Yager's regiment - fighting for the Confederacy. He was Captain of the Mounted Rangers at the siege of Corpus Christi and at Sabine Pass. He also served in Louisiana - "repelling the invasions of General Banks." [Ref. 222]

Envelope addressed to James Alexander Ware
owned by James and Judy C. Ware
James had already established his legal business in the Nueces County of Texas well before the war started. His wife, Jane, (also born in Virginia) had moved to Texas with her family in 1856, when her parents (George Andrew Smith and Julia Somerville Smith) "chartered a vessel to take the family and a large number of slaves by sea, via Norfolk." (Ref. 6) The 1860 census for Galveston shows James A. Ware (along with his wife and one child) living in the area at that time.

With fighting in Texas an important component of the Civil War, "Mat Nolan, sheriff of Nueces County, was authorized to raise a company of cavalry. Nolan's Mounted Rangers, 98 strong, mustered at Banquete. They volunteered to serve six months, long enough, they thought, to win the war. Other companies mustered at Corpus Christi included W.S. Shaw's Light Infantry, James Morgan's Infantry Company, John Graham's Mounted Coast Guards, James A. Ware's Partisan Rangers, and the Corpus Christi Artillery Company."
According to author, John Salmon Ford, "a company of federal cavalry took possession of Captain [Richard] King's ranch of Santa Gertrudis and made William Gregory a prisoner. In order to protect this exposed portion of Texas, [Rip] Ford forwarded companies to the Nueces as fast as they were mustered into service. This happened about January 1, 1864. Capt. James A. Ware and, afterwards, Maj. Mat Nolan controlled things in that quarter. . . Captain James A. Ware was officially placed in charge of all the troops at or near San Patricio intended for service in the expeditionary forces." (Ref. 1006)
Although James participated in many battles during the war and served as Commander of Fort Duncan in Eagle Pass, perhaps one his defining moments came at the Battle of Corpus Christi. In 1862, there was an effort made to invade Texas by way of entering Corpus Christi Bay. Union officer, Lt. Kittredge, led the bombardment. "The Federal ships returned on August 18th, landing sailors and a howitzer north of the confederate battery. The sailors dragged the howitzer within range of the battery and began firing. Confederate infantry, led by Major A. M. Hobby, charged the federal position. Captain James A. Ware's Cavalry joined the assault, forcing the Federals to withdraw."
(Taken from the Civil War Historic Marker in Corpus Christi)
The following report came from Maj. E. F. Geat and Capt. John Ireland:

This next report was sent to Headquarters by Major Mat Nolan:

One of the soldiers serving with James was an Ordnance Sergeant named D. R. Gamble (although his artwork shows his name spelled 'Gambel') who was a remarkable artist. He drew several paintings of the activities going on in Corpus Christi at the time, and his work is highly significant because it comes from firsthand observations. The following two pieces were done by him – one titled The Defense of Corpus Christi and the other The Boat Fight in Corpus Christi Channel. Both of these original pieces are the property of James H. Ware, the great grandson of Capt. James Alexander Ware.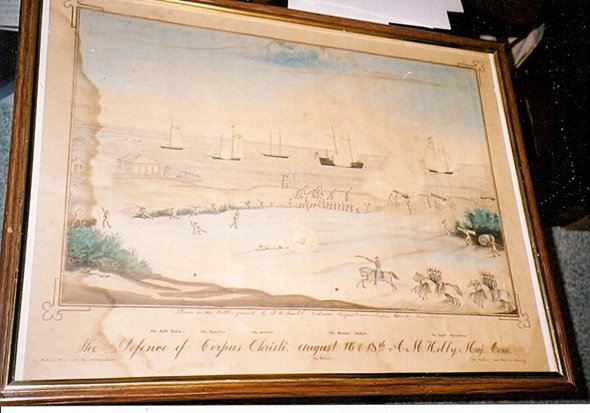 In the right hand corner, the artist wrote: "The Battery and Ware's Cavalry" – the man on the horse is a depiction of Capt. James A. Ware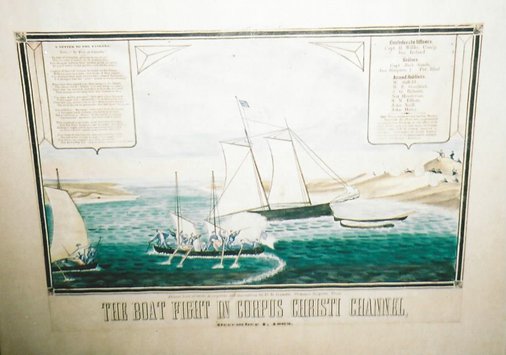 In this painting there is a list of soldiers on the right hand side and a poem about the battle on the left hand side.
When the war ended, James was still serving in remote Texas. News was very slow in getting that far south. Not knowing what the amnesty terms were going to be, James (along with many other high ranking officers) went to Mexico where he was appointed 'Military Engineer' for the railroad in the army of Maximilian. By not applying for parole papers which required him to swear an oath to 'not bear arms against the country,' he became what (was then) known as an "unreconstructed Rebel." He later returned to Texas and his love of law; where his practice extended from San Antonio to the Rio Grande River. He was appointed as a District Judge by Governor Coke.
Maximilian of Austria was a European nobleman invited to Mexico in the aftermath of the disastrous wars and conflicts of the mid-nineteenth century. It was thought that the establishment of a monarchy, with a tried and true European bloodline, could bring some much-needed stability to the strife-torn nation. He arrived in 1864 and was accepted by the people as Emperor of Mexico. His rule did not last very long, however, as liberal forces under the command of Benito Juarez destabilized Maximilian's rule. Captured by Juarez' men, he was executed in 1867.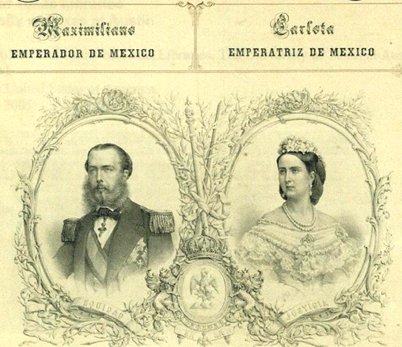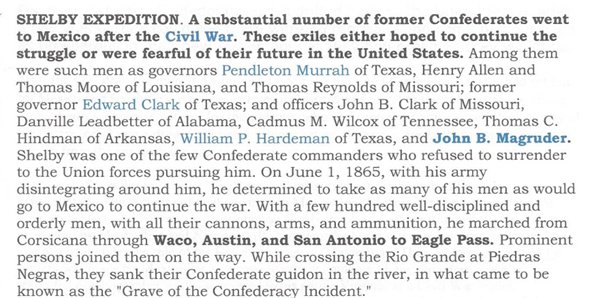 James Ware's work in the legal field "gave him such prominence as a lawyer that in 1873, he was elected judge of the district court embracing the counties from Atascosa on the east to Maverick on the Rio Grande. As a District Judge, he was painstaking, just, and impartial. He served his term of four years with distinction as a profound and able jurist. After his judicial career was ended he located at and resumed the practice of law at Eagle Pass in Maverick County, where he continued to reside up to the time he was stricken with paralysis." (Ref. Obituary)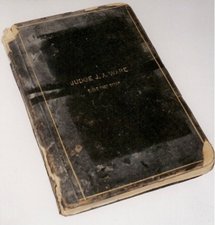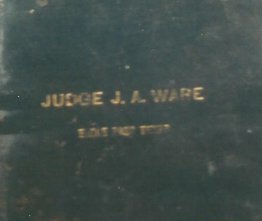 Docket Book for Judge J.A. Ware
Owned by James & Judy C. Ware
James eventually moved to Austin where he spent his last years living in the Old Confederate Home there. Although his family memorialized his death on a gravestone in Berryville, Virginia, James is actually buried in the Confederate section of the Texas State Cemetery. [Ref. 8, 40]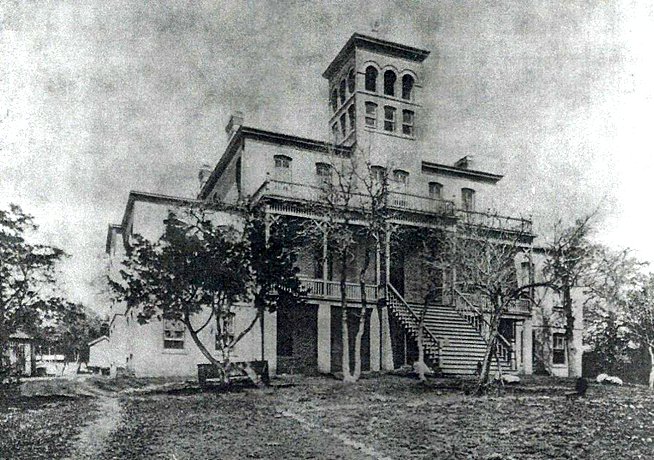 Old Confederate Home in Austin, Texas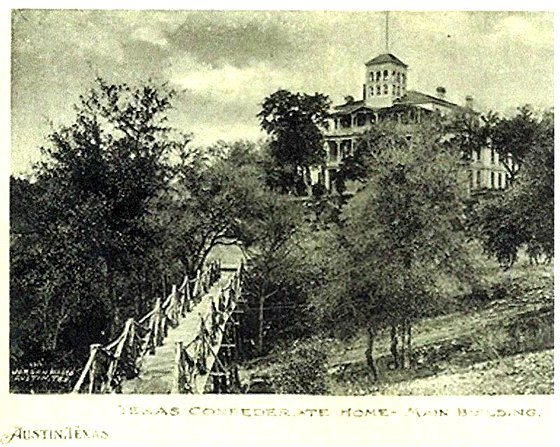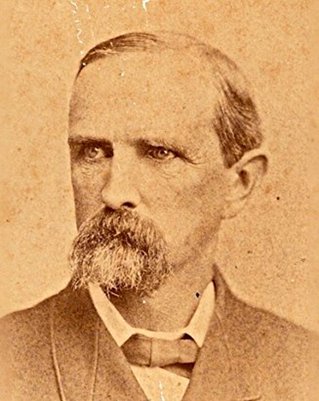 The Honorable James Alexander Ware
Photo owned by James and Judy C. Ware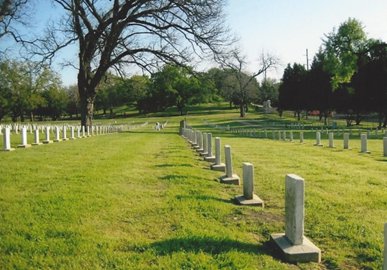 Texas State Cemetery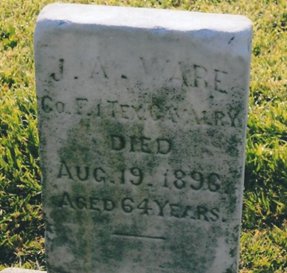 Grave in Austin,Texas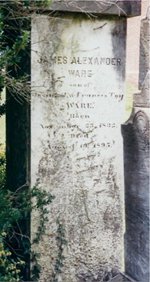 Marker in Berryville, Virginia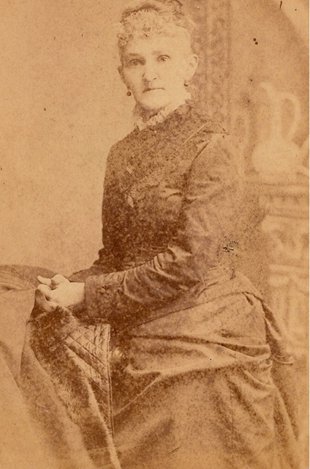 Jane Morton Smith Ware
Photo owned by James & Judy C. Ware
Jane Morton Smith was actually a cousin of the Wares who had attended The Patapsco Female Institute in Maryland - founded in 1837 as an elegant finishing school for young women. Jane spent the early part of her marriage with James in the Galveston area of Texas, but like so many other soldier's families, she moved away from the coast during the Civil War. With Galveston serving as such a major port for southern shipping, it was always a hotbed of fighting. This danger only magnified when yellow fever struck with a vengence. George and Julia Smith had wisely decided to move further inland to Waco, and it was only prudent that Jane and the children go to live closer to them. It would be in this central part of Texas that Jane Morton Smith Ware would spend the rest of her life.
Jane became a well-known citizen in Belton, Texas – home of Mary Hardin Baylor College - now a University. Her picture appears in several of the old yearbooks. She was very active in the UDC (United Daughters of the Confederacy) and was considered their "patron saint." The following is a poem that was dedicated to her in the 1908-1909 edition of The Blue Bonnet – the yearbook for Baylor College.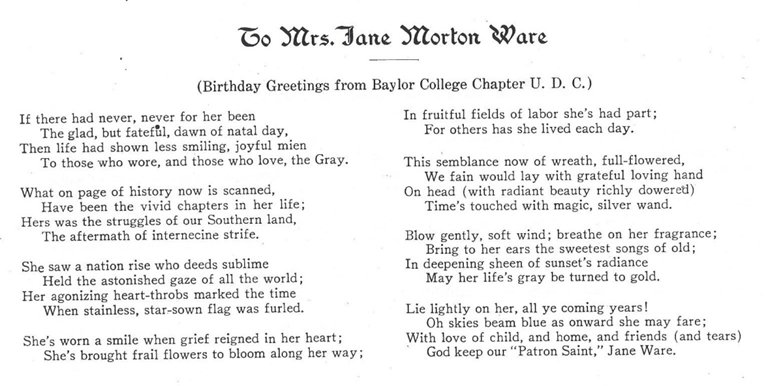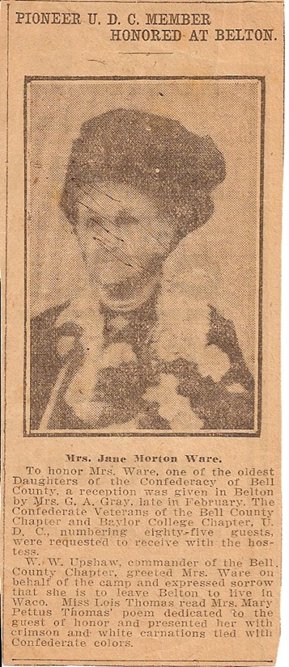 News clipping of a birthday reception held in her honor.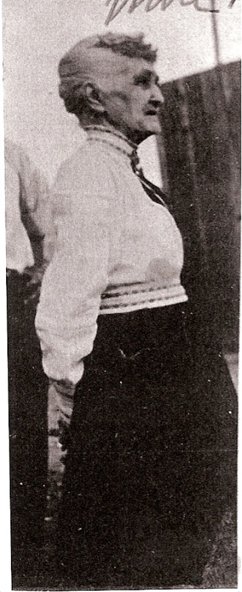 Jane lived with her daughter, Frances Glassell Elliott, before her death, and she is buried in the Belton, Cemetery. She died at the age of 84 on January 26, 1916.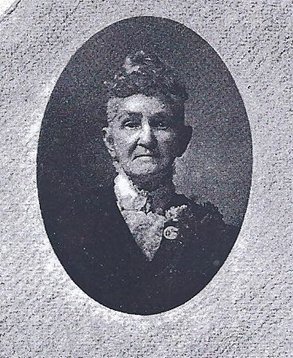 Jane Morton Smith Ware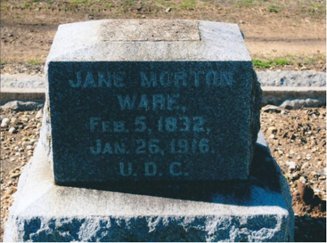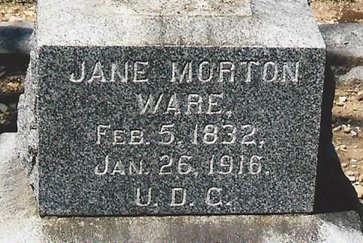 THE CHILDREN OF JAMES ALEXANDER WARE AND JANE
Frances Glassell, who married Joel F. Elliott
Somerville who married Lena. He died in 1921.
Eudora, who married John Dean. She died in 1905.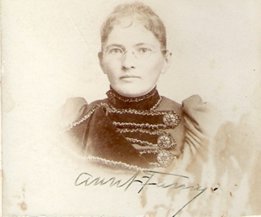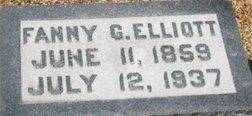 Frances Ware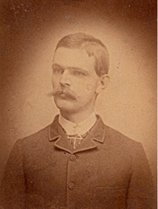 Somerville Ware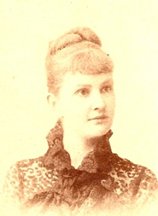 Eudora Ware
JAMES A. WARE died in 1896.
37.

There were three children born to Frances Ware and Joel Elliott – Robert Ray who died in 1821, F. Glassell, who now lives in Waco, Texas, and J. Wallace, who lives in Columbus, Mississippi.

The last named visited us once and we liked him so much, he was in Washington on a special job with the Department of Agriculture and we teased him about being one of Roosevelt's "Brain-Trusters.
"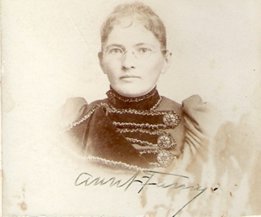 Fanny Glassell Ware married Joel Francis Elliott on October 15, 1879. They settled in Belton, Texas to raise their family of three children: Robert Ray Elliott (born 1884), Frank Glassell Elliott (born 1887) who was always known as 'Glassell', and Joel Wallace Elliott (born 1892). Robert died in 1921 of tuberculosis.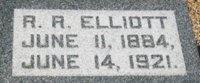 Grave for Robert Ray Elliott in Belton, Texas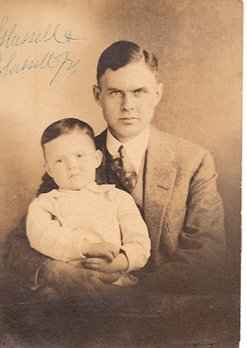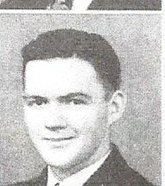 Frank (usually just called 'Glassell') married Anna May Herring on December 22, 1910, and the couple had two sons – Frank (known as Glassell, Jr.) and William.

Joel died on June 23, 1954.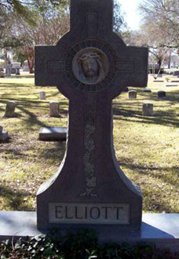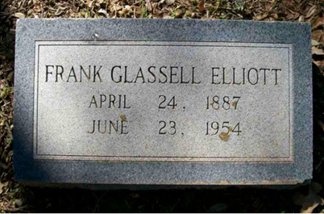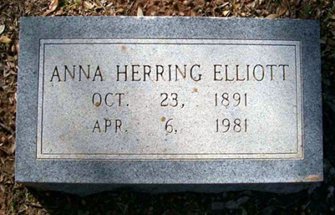 Joel Wallace Elliott married Susie Louise Sanders in 1922.

The couple had a son named Joel Ware Elliott, and they lived for a while in Mississippi.

J. Wallace Elliott died in 1972.

The Joel F. Elliott home in Belton, Texas
Fanny and Joel Elliott spent many years in Belton where Joel was part of the firm of Ray & Elliott.

The following obituary appeared in the Belton newspaper after his death.
Belton, May 18,-The remains of Joel F. ELLIOTT, pioneer Belton business man who died yesterday morning in El Paso will reach Temple tomorrow at noon and will be brought to this city, where, at the First Christian church, tomorrow afternoon at 4:30 o'clock, the services will be held. In the passing of Joel F. ELLIOTT, Belton lost one of its most honored citizens and a man in whom the public had the highest confidence-a man whom everybody honored and a man whom no one ever criticized. The active pallbearers will be employees of the firm of RAY & ELLIOTT, of which the deceased was a member. They will be C.E. ROBINSON, Doyle PERKINS, Ray COOPER, John LUSK, Don FORREST and Frank CARDEN. Honorary: Thomas YARRELL Sr., W.M. GARRISON, J.A. FERGUSON, John A. WALLACE, Dr. S.L. MAYO, George W. COLE, A.D. POTTS and S.W. MILLER.
38.

Somerville left three children – Lt. Col. Charles, Sarah Frances, and James. Lena, their mother, was here this summer. She was in Virginia settling up Aunt Key's estate and her daughter, Sarah, and two daughters-in-law and Charles' twelve year old son, Sommy, were with her. Both boys still overseas. She told me so much I had never known about the Texas Wares. We had a grand time talking. They live in San Antonio - Sarah teaches school there. Both boys made splendid records in the war – Charles in the European theater and James, a flyer in the Pacific. Charles' wife is Nora and James', Elizabeth – both lovely girls.
** Somerville Ware married Ora Lena Rogers (who was called Lena) on December 19, 1901. There was an 17 year age difference between them. (Ref. 355) Somerville worked in the Murray & Ware book trade in Belton, Texas - where he was in partnership with his cousin, Andrew Murray. [Ref. 79, 80] He later worked for many years as agent for the Santa Fe railroad in Killeen. He was working for the railroad in Santa Anna when he died suddenly of a heart attack in 1921. He was 60 years old at the time of his death, and Lena was 43.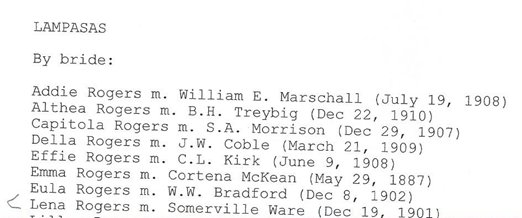 Marriage record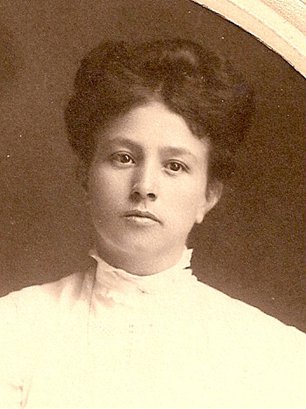 Lena Rogers Ware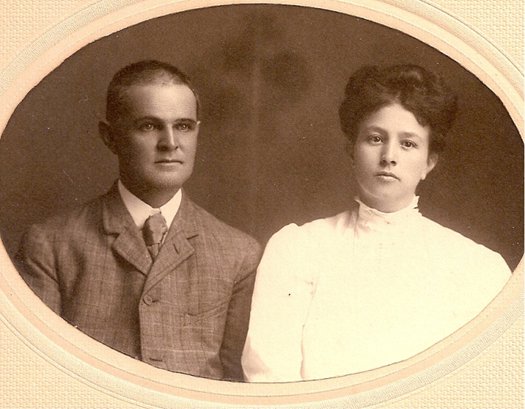 Somerville and Lena Ware
CORRECTION: There were actually four children born to Somerville and Lena Ware, but their son named William Rogers Ware died in 1913, at age six.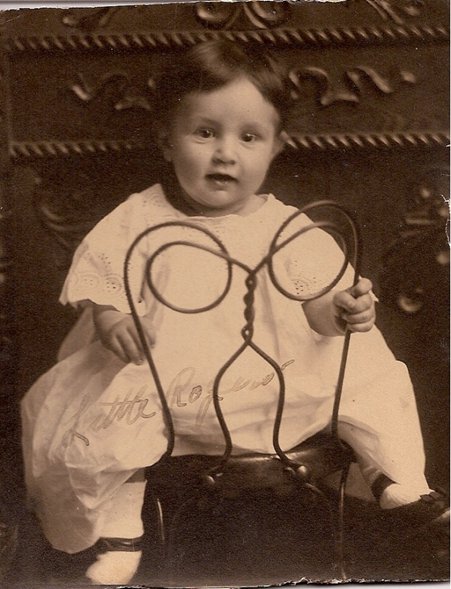 Photo of William Rogers Ware (born in 1907) before his death at age six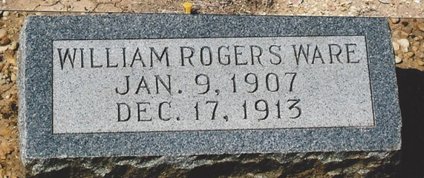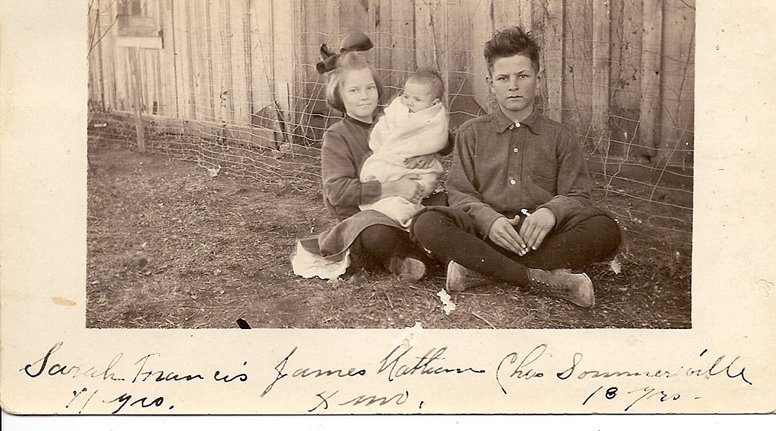 Sarah Frances Ware (age 11) James Nathan Ware (4 months)
Charles Somerville Ware (age 13)
Lena died in 1970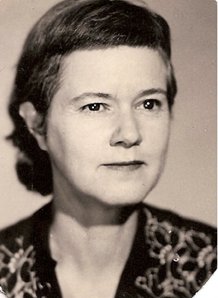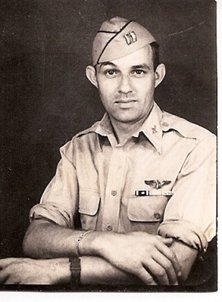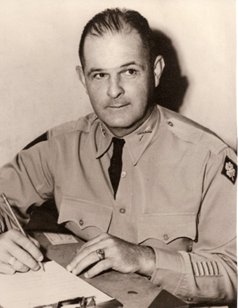 Sarah Ware - James N. Ware - Charles S. Ware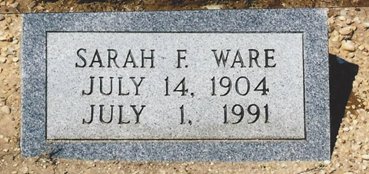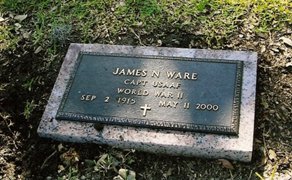 Colonel [Charles] Ware was a decorated veteran of World War II. He served with the U.S. Army in Korea. He died of other causes in Korea on April 2, 1952. For his leadership and valor, Colonel Ware was awarded the Legion of Merit, the Bronze Star with Oak Leaf Cluster, the Korean Service Medal, the United Nations Service Medal, the National Defense Service Medal, the Korean Presidential Unit Citation, the Republic of Korea War Service Medal and the World War II Victory Medal.
** It was during World War II, when Lena Ware, her daughter (Sarah) and her two daughters-in-law (Nora and Elizabeth) "traveled to Virginia to settle the estate of Elizabeth Alexander Ware (Aunt Key)." James Alexander Ware, the father of Somerville and father-in-law of Lena, was the eldest son of Josiah Ware and the oldest brother of Elizabeth. Since Elizabeth had no surviving children, her other brother (Charles) had never married, and her sister (Lucy) had predeceased her, she bequeathed the majority of her estate to her favorite neice, Lucie Ware Lewis McCormick. Elizabeth had passed away in 1925, and it was in 1944 that Lucie McCormick died - - so it was actually the estate of Lucie that was being settled in 1945. Lucie had safe-guarded many things that her Aunt Key, however, had wished to be given to the children and grandchildren of her brother, James. Even poor Lucie died with no descendants to inherit the items from her grandparents (Josiah and Fanny) since her two children had pre-deceased her. It was during this trip back to Virginia, that several pieces of furniture and many other treasured items that had originated at Springfield found their way to Texas and Louisiana.
39.

Eudora Ware Dean left two sons: James S. and Charles. They both live in Sacremento, California. Charles is City manager. From what Lena told me about them, it made me anxious to know them.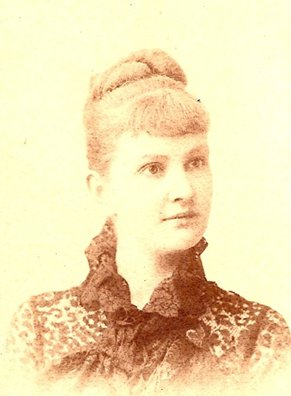 Eudora Murray Ware Dean – photo owned by James and Judy C. Ware

** Eudora, who was named after a sister of Jane's was born on August 20, 1864 in Dickinson's Bayou, Texas – which was in Galveston County. She married John A. Dean on

November 15, 1882 at the age of 18. Somehow, she and John ended up living in the Santiago Papasquiaro region of Mexico – a valley located close to Durango. From the family letters we have, it would seem that her health was frail, and she died at the young age of 41.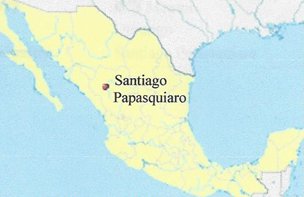 The children of Eudora and John were Charles F. and James S. Dean. Both sons moved to California and became well-known in the field of architecture. They established the firm of Dean & Dean Architects, but in 1929, James left the firm to take the post of Sacramento City Manager.

Sierra 2 Community Center is eligible for designation as a local Sacramento Landmark, as well as for listing on the National Register of Historic Places and the California Register of Historical Resources under Criterion C as an excellent example of its architectural style (Spanish/Mediterranean Revival) and as the work of Charles and James Dean (Dean and Dean) significant, if not the most significant, architectural firm in the Sacramento area in the 1920s and 30s. The Dean and Dean Firm practiced in Sacramento and the adjacent region from its founding in 1922 until Charles' death in 1956. Although James left the firm in 1929 to become City Manager, the double names continued to be used. Among their most important downtown Mediterranean buildings are the Memorial Auditorium, the Sutter Club, the Westminster Presbyterian Church, and the Breuner's Furniture Store.

CHARLES F. DEAN — Sacramento County has good reason to be proud of its professional men, among whom is numbered Mr. Charles F. Dean, of the well-known firm of architects, Messrs. Dean & Dean, of Sacramento. He was born at Belton, Texas on February 1, 1884, and is now associated with his brother, James S., whose life story is given elsewhere in this work. As he began life with the best home advantages, it is not surprising that in his pursuit of one of the noblest and most honored of professions, he should do much to elevate the minds, and beautify the lives of others.

Charles F. Dean enjoyed both the ordinary grammar school and the high school courses of instruction, and then spent three years at the Agricultural and Mechanical College at Bryan, Texas, where he took a civil engineer's course, with special work in drawing. The next two years he spent in San Antonio, Texas, and after that, seven years in Chicago, following his profession; and then in 1908, he came out to California, and entered the state service as chief designer of the state architect's office – a position of peculiar responsibility and some opportunity, which he filled with eminent satisfaction until 1922, when he resigned.

Mr. Dean then joined his brother, and they have since expanded more and more as practical architects equipped to undertake very pretentious work and being more and more encouraged by increasing demands for their services.

In 1913, Mr. Dean and Miss Alvina Laue, of Sacramento, were married at Sacramento.

Source: Reed, G. Walter, History of Sacramento County, California With Biographical Sketches, Historic Record Company, Los Angeles, CA. 1923.

JAMES S. DEAN -

For more than a decade James S. Dean has been numbered among Sacramento's successful architects and during this period he has been intimately associated with building operations in the city. He was born in Belton, Bell County, Texas, December 27, 1885, a son of John A. and Eudora M. (Ware) Dean, both now deceased. After completing his high school course, he entered the Agricultural and Mechanical College of Texas, from which he was graduated in 1906 with a degree of Bachelor of Science in architecture, and the next three years were spent in the study of architectural design in the Massachusetts Institute of Technology at Boston. He then became instructor in architecture and drawing at his alma mater in Texas, filling that position for four years and on the expiration of that period went to Waco, Texas, where he opened an office, remaining at that place for a year.

In 1912 Mr. Dean came to California, locating in Sacramento, and for two years he acted as assistant designer in the bureau of architecture in the state department of engineering. In 1914 he was made assistant state architect, serving in that capacity for six years, and from 1920 until 1922 he was chief deputy for the firm of Hemmings, Peterson, Hudnutt, Inc. They were architects for Sacramento's new schools and Mr. Dean had entire charge of the work of planning, designing and construction, which was accomplished in a most efficient and satisfactory manner. He is now practicing independently and, owing to the prestige which he had previously won, his professional services are now in constant demand.

Mr. Dean married Miss Ruth Cook, of Iowa, and they now have a daughter, Charlotte Eudora. He is a member of the Sigma Alpha Epsilon college fraternity, and in Masonry he has attained the thirty-second degree. He is fond of outdoor sports and is president of the Sutter Lawn Tennis Club. Whatever touches the welfare of his city is to him a matter of deep concern, and his professional colleagues, bear testimony as to his character and pronounced skill.

Source: Reed, G. Walter, History of Sacramento County, California With Biographical Sketches, Historic Record Company, Los Angeles, CA. 1923.

In 1937, Charlotte Eudora Dean married Robert Dollar.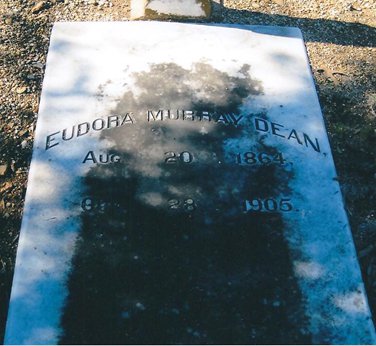 Eudora Murray Ware Dean is buried in Belton, Texas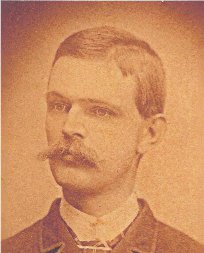 Somerville Ware
Photo owned by James & Judy C. Ware
Somerville Ware worked in the railroad business; starting out as a telegraph operator. Due to the financial climate of the 1920s, the United States was suffering through a post World War I depression. Jobs were very hard to come by and often required that the 'bread winner' of the family be willing to take employment in a town away from his loved ones. Such was the case with Somerville, which is why he was in Santa Anna when he died. Lena and the children were living in Temple - about 130 miles away from where he worked. He was buried in the family plot in Belton, Texas.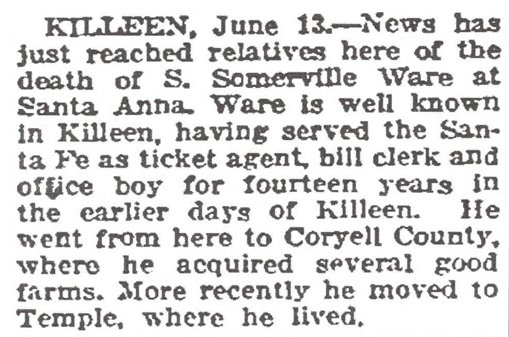 Obituary for Somerville Ware who died in 1921 at age 60.
With the death of Sommerville, poor Fanny Glassell Ware Elliott had lost her husband on May 17th, her brother on June 10th, and would soon lose her son, Ray, on June 14th of 1921.
Lena Ware received a lovely letter from one of her nephews which read, in part:
Dear Aunt Lena,
The mere expression of the sympathy we all feel for you in a time like this seems so futile as to be entirely useless. But being so far away it is all we can do, and it may soften things for you a little bit to know how much others feel with you.
The telegram came the night it was sent, and most of the rest of the night was spent by me in reviewing the days of my life that "Uncle Somie" was so near and dear to me, and was in fact more of a father to me than my own was.
Only three days before, I had heard from Aunt Fanny, telling of Uncle Elliott's death, and the taking away of both those men so near together was quite a shock. I realize that time has gone by faster than it seems possible, and that I should not have put off so long my self promised trip back to see my relatives and friends.
I cannot realize now that I will never see the two men who have meant more to me than any others in this life.