Note concerning George Washington's Death
Owned and transcribed by Judith Ware
© Judy C. Ware 2008
---
The following note was found in a very old book that once belonged to Lucy Balmain Ware Lewis. She was the youngest daughter of Josiah William Ware and she married into the Washington family when she wed George's nephew, Edward Parke Custis. Lucy & Edward lived at Audley Farm outside Berryville, Virginia – the estate that Nelly Custis (George and Martha's adopted granddaughter) also lived at for a period of time.
There are many old books that have been in our family for generations (dating back to the early 1800's) & it was only upon thumbing through each individual page, that I happened to come across this small, handwritten note that was tucked carefully inside. I have no idea who wrote it or when. The handwriting is not that of Lucy Ware Lewis (comparing it to many of her old letters) and I have not found a match among any of the other letters we own. It is possible it was written by her husband or mailed to her from another member of the family. It is extremely fragile & aged with time. The transcription of this note is written below.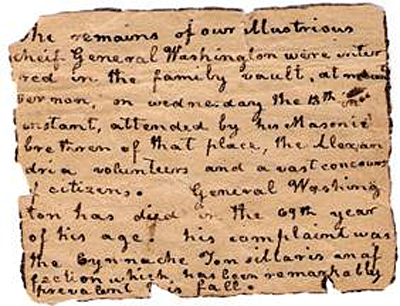 TRANSCRIPTION:
The remains of our illustrious Chief General Washington were interred in the family vault, at Mount Vernon, on Wednesday the 18th in instant (meaning in the present or current month) attended by his Masonic brethren of that place, the Alexandria volunteers, and a vast concordance of citizens. General Washington has died in the 69th year of his age. His complaint was the Gynnache Tonsillaris – an infection which has been remarkably prevelant this fall.
** It is of interest to note that the writer used the present tense in describing Washington's death - - "General Washington has died," and "an infection which has been remarkably prevelant." This would lead one to think that the note was written around the same time of his death – dating it in 1799.
Author David L. Ribblett writes in his book entitled Nelly Custis – Child of Mount Vernon the following information about the death of Washington.
"And so, less than 20 days after the birth of Nelly's first child, Washington lay dying of quinsy in the room beyond hers. George Washington died in the evening of December 14, 1799. Washington's remains were laid out in the large dining room. . . Reverend Thomas Davis was summoned for Washington's funeral, which was held on December 18. Martha was too grief stricken to attend."
This would validate the information in this handwritten note. According to the Dunglison1874 dictionary of archaic medical terms, the disease called "Cynanche Tonsillaris" had the characteristic symptoms of swelling and florid redness of the tonsils; painful swallowing accompanied with inflammatory fever. [Dunglison1874]. This ailment was also called Quinsy.
632. Webster's New International Dictionary based on the dictionary of 1890 and 1900 W.T. Harris, Editor in Chief
; F. Sturges Allen, General Editor, Springfield, Massachusetts, Published by G C Merriam Company copyright 1928