TRANSCRIPTION OF 1861 LETTER TO JOSIAH WARE
FROM CAPTAIN E.G. ALBURTIS
Written by Judy C. Ware
© Judy C. Ware October 2008
Original letter owned by Jane & Scott Dudgeon
---
Martinsburg, April 30, 1861
J.W. Ware, Colonel
3rd Regiment Artillery

Dear Sir:

Yours of the 21st instant (of the present or current month) was handed me today upon my return from Harpers Ferry, on a short visit to my family. My Company has been at that place since Friday the 19th instant. (April)

In compliance with your request I have the pleasure of informing you that my Company numbers 58 men rank and file for duty. We have two iron 6 pound guns with the necessary accouterments harness, etc. We have also the old Roman pattern saber.

Date of commissioning of Captain and Second Lieutenant (is) November 19, 1859 (Captain) and Lieutenant 23 November, 1860.

Very respectfully,


E.G. Alburtis, Captain


Wise Artillery

P.S. The names of lieutenants are
James S. Brown, 1st
George H. Murphy, 2
W.P. Withrow, 3rd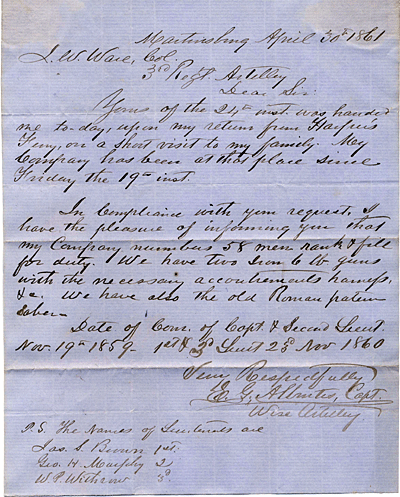 ---
** Definition "instant" = of the present or current month
***I would like to thank Jane & Scott Dudgeon for allowing me to copy & transcribe this letter for my historical research. I am deeply grateful.
---
Background Information on Capt. E.G. Alburtis
Researched & written by Judy C. Ware Oct. 2008

Captain E.G. Alburtis was an officer in the Confederate army. He was, at one time, in command of Company B in Wise's Artillery.

On the 16th of October in 1859, Captain Alburtis was part of the group of southern soldiers that responded to John Brown's attack at Harper's Ferry. As one person reported, "the leadership of Capt. Alburtis showed true valor and military spirit."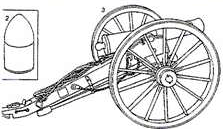 In his 1861 letter to Josiah Ware (who was a Colonel in the Virginia Militia) he was clearly responding to an inquiry Josiah had made about the strength of his command. He mentioned having two iron 6 pound guns and Roman pattern saber. The photo here is of a 6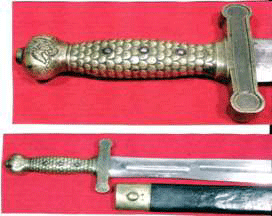 pound gun.
There were many different styles of sabers that were used during the Civil War and more were commissioned as the fighting continued. According to the Civil War preservations site, this photo is of a Roman patterned Civil War saber – probably made between 1832 and 1833.