Chapter 11
Son ~ George Ware
It was now 1779, and James and Caty Todd Ware had one more child to add to their very full home. James was 38 and Caty was still young, being only 26 years old. It is frankly a little unusual that they didn't end up having more children, as was the custom of the time. They were both certainly young enough and neither marriage partner died for 13 more years. It is always possible that this last baby was a difficult birth for Caty, rendering any further pregnancies impossible, or the fact that James was still serving in the war and was not at home much. The American Revolution was due to rage on for another four years. For whatever reason, baby George Ware was to be the last child born to the couple.
George came into this world with no lack of siblings to play with. Thompson was now 10, James III was eight, Polly seven, Lucy six, Charles four, and Kitty two. The stress of the times was something both James and Caty still had to bear, but just one year earlier, in 1778, France had decided to openly support the 13 colonies and enter the war. This would bring much needed help to the American cause for freedom.
Two years after the birth of George Ware, the War for Independence took a dramatic twist in his home colony of Virginia. On October 19, 1781, British General Charles Cornwallis surrendered his army, consisting of some 8,000 men, to General George Washington at Yorktown, thereby giving up any chance of Great Britain winning the war. The fighting did not end immediately, but Cornwallis' surrender was certainly the death knell for England's thoughts of celebrating a victory.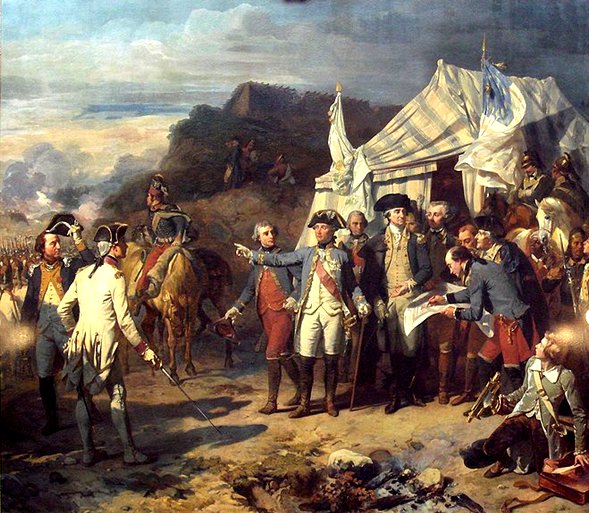 Bataille de Yorktown by Auguste Couder - Wikipedia
Born on February 9, 1779, George spent his first formative 12 years in Virginia, but he would know Kentucky as his home longer than any of his brothers and sisters. He settled with James and Caty on their new land in Fayette County until he married. Letters written back to Virginia by James Ware make clear that his son was a huge help to his parents in getting the new home settled and profitable. In one instance, James wrote, "George has got another fine colt out of his old mare – a horse they call Peacemaker. She is now with foul by Noxly; pedigree enough." (Ref. 298) The mere fact that James made George the executor of his will shows the closeness of the father and son.
In 1812, George Ware experienced two life-altering experiences; he went to war and he got married. Serving under the command of Colonel William Mountjoy, he joined the ranks of other Ware men who proudly served their country.


(Ref. 2289) War Record for George Ware
Then, on October 8, 1812, George married Nancy Ferguson. Apparently she was a neighbor's daughter because his father wrote to James III in Virginia that "George Ware is married at last to Mrs. Ferguson's daughter; a close neighbor. . . he was married the day I started from Frederick." (Ref. 298) George was 33 years old at the time, which is why his father probably used the phrase, "is married at last." Nancy, born on June 6, 1790, was only 22.
George and Nancy "lived on the land of James Ware II." (Ref. 940) It was here that they had all their children because one of the family bibles states that their son, Abram, "always having lived on his father's place which had also been his grandfather's," inherited the property. (Ref. 940) It must have been nice for James to have George and Nancy living so close because his soul mate, Caty Todd, had already passed away by the time they married. He lived several years longer than she did, and his son, daughter-in-law, and grandchildren probably brought him great solace.
It was not long before Nancy delivered that first grandchild for him, either. One year after their wedding, on a Sunday, she gave birth to Elizabeth Catherine Ware on July 11, 1813. The couple called her Catherine, probably in honor of George's late mother.
At the age of 20, Catherine married Robert James Didlake on January 31, 1833. He was only two years her senior. Robert died in February of 1859, and Catherine passed away on July 4, 1868, at the age of 55.
Photos taken by James and Judy Ware 2010
<![if !vml]>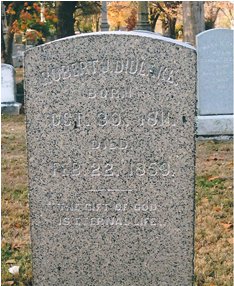 <![endif]>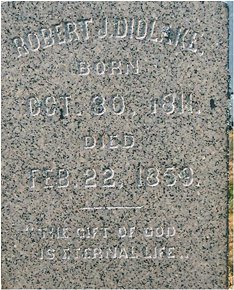 Grave of Robert Didlake
"The Gift of God is Eternal Life."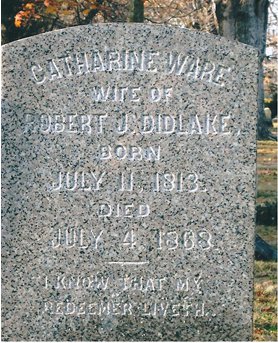 Grave of Catharine Ware Didlake
"I know That My Redeemer Liveth."
Even as George was starting his family with Nancy, he was becoming involved in civic affairs. Records show the "examination of the accounts of Frederick Shyock, administrator of the estate of Frederick Shyock deceased, by George Ware on June 2, 1814 & recorded in July court of 1814." (Ref. 1043A)
The next few years would see Nancy pregnant most of the time. It seemed like a new baby came into the home just about every two years, on the nose. On December 18, 1814, she had another baby girl. This one they named Mary Ann Webb Ware, most likely after George's Aunt Polly whose full name was Mary Ann Todd Ware Webb. In a letter from Lucy Webb to Sally Stribling, she wrote, "Your Uncle George Ware's family are well. (As of this date) he has two daughters, nearly grown – Catharine, she is a handsome girl with a good figure, and Mary Ann." (Ref. 597) Mary Ann married Thomas Woods Goodloe on January 17, 1844, at the age of 30. They never had any children and Mary died in January 1887.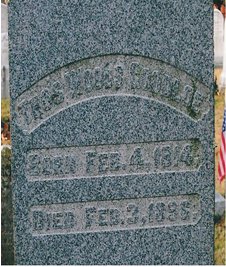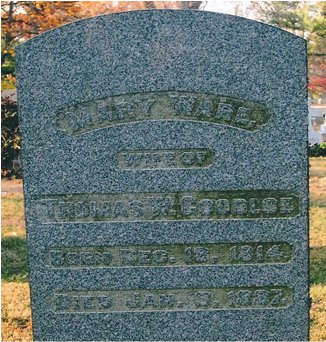 Grave of Thomas Woods Goodloe Grave of Mary Ware Goodloe
Photos taken by James and Judy Ware 2010
Almost two years later, to the day, Nancy gave birth to the next child. On December 23, 1816, James Todd Ware was born; honoring both maternal and paternal grandparents with his name. Little else is known of James. He lived to be 55, and died on Wednesday, July 5, 1871.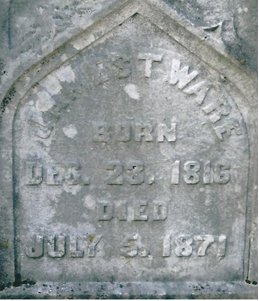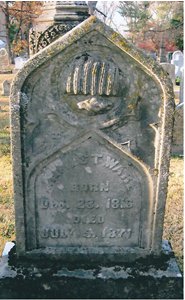 Grave of James Todd Ware
Photos taken by James and Judy Ware 2010
After another two years went by, a daughter was welcomed into the family. Ann Ware, born October 13, 1818, lived to be only 22 years old, dying on September 12, 1840.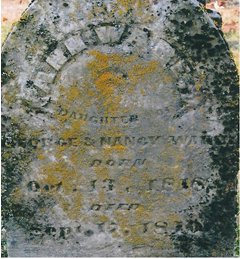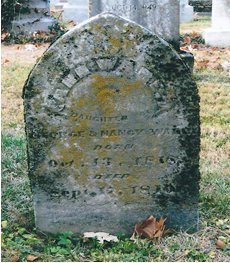 On November 9, 1820, another son joined the group. They named him Abraham Thompson Ware, but he was always called Abram. Sadly, his Grandpa James passed away just two months before his birth. It would be Abram, however, who would one day inherit the land his grandfather carved out for the family.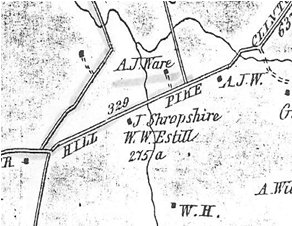 <![if !vml]> <![endif]> Map showing the property of A.T. Ware ~ Abraham Thompson Ware, son of George Ware and grandson of James and Caty Ware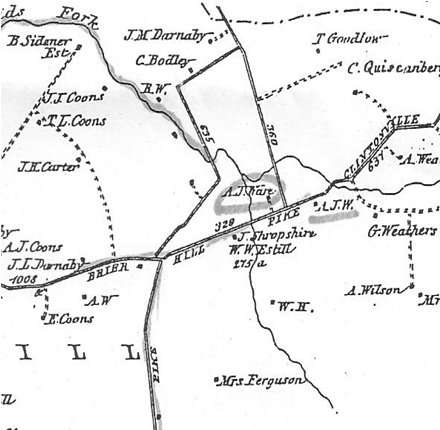 Abram Ware loved farming and spent his whole life on the family land. His occupation of 'farmer' is recorded in Pioneer Record and Reminiscences of the Early Settlers written by Rufus Putnam. (Ref. 2281) He was well known in Fayette County and obviously held in high regard. One local publication mentioned several men residing in the area, and his name appeared above the notation, "the above are all farmers and honest men." (Ref. 2281)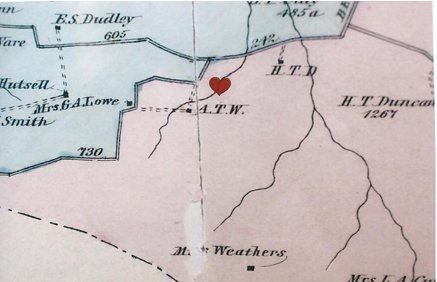 It would seem that Abram never married, and he was the last descendant of James and Caty to live on the Ware property. On Thursday, September 29, 1890, "Abraham Ware, an old and wealthy farmer of Fayette County, died." (Ref. 940, 964)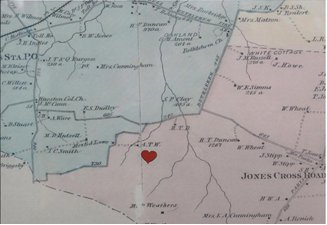 <![if !vml]> <![endif]> Maps showing the location of the land of A.T.W. (Abram Thompson Ware) The land was originally settled by his grandfather, James Ware II.
<![if !vml]>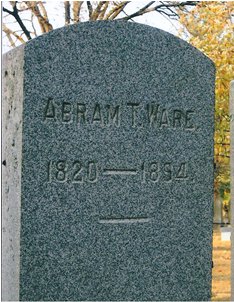 <![endif]>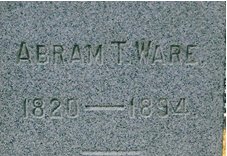 Grave marker for Abraham Thompson Ware – son of George and Nancy Ware and grandson of James and Caty Todd Ware.
Photos taken by James & Judy Ware 2010
After the birth of Abram, Nancy and George added a sixth child to the family when another son was born two years later. George Clifton Ware, born on December 29, 1822, was always called Clifton. Catherine was now nine, Mary Ann eight, James six, Ann four, and Abram was two. The Ware home was growing rapidly. Clifton lived to be 44 years old, dying on April 5, 1866.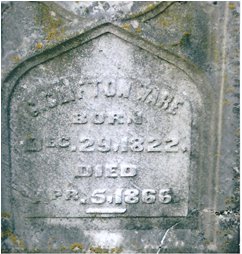 <![if !vml]> <![endif]>Grave of George Clifton Ware in Lexington Cemetery
Photo taken by James and Judy Ware 2010
A son named Charles William Ware was born on April 7, 1825. Little is known about him and his tombstone is very hard to read. He died in what appears to be the month of September.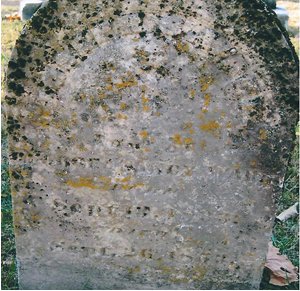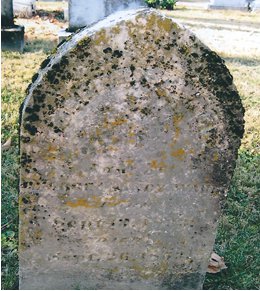 Grave of Charles William Ware
Photos taken by James and Judy Ware 2010
Charles was followed, in 1827, by another son; this one named John William Ware. John died in 1867 at the age of 40.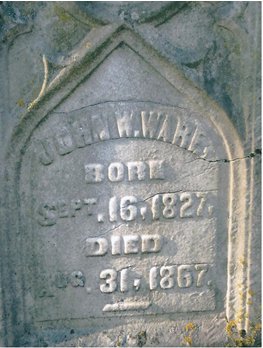 Grave of John W. Ware in Lexington Cemetery
Two years after the birth of Charles, Nancy delivered another daughter. Lucy Arabella Ware, born in 1830, married James Hutchison Shropshire in 1850. "Lucy and James had the following children: Mary, who married Mat Simpson, Catherine, who married David Field, Cliff, who married, first Miss Kinnaird, and then Miss Willie Robb, and Laura who never married. Lucy died in 1876 at the age of 46. Her husband lived another 46 years and remarried Laura Didlake, the niece of his first wife." (Ref. 2227)
<![if !vml]>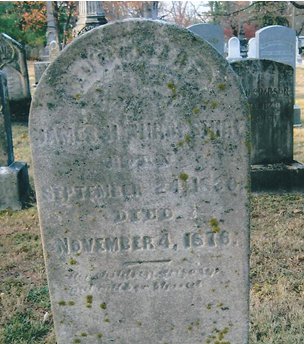 <![endif]>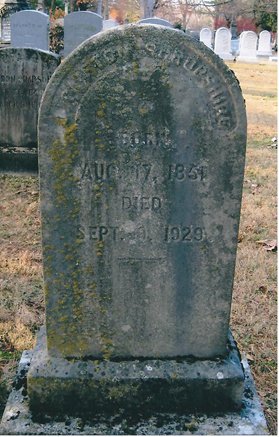 Grave of Lucy Ware Shropshire, and of Cliff Shropshire, son of Lucy and James H. Shropshire
Lucy Ware
wife of
James H. Shropshire
Born
September 24, 1830
Died
November 4, 1876
"Her children rise up and call her blessed"
George and Nancy had their last child on September 13, 1833. They named him Joseph Scott Ware. Ironically, baby Joseph was born in the middle of the cholera epidemic which killed so many other family members. He survived the cholera, but he still died young in 1853 of "flux"; being only 20 years old. Flux was often the term used to describe what is now known as bloody diarrhea or dysentery. The combination of loss of water and blood could rapidly cause dehydration and eventually death. (Ref. 586, 602, 940, 970)<![if !vml]><![endif]>
<![if !vml]>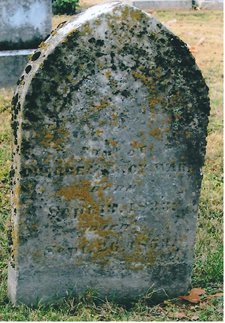 <![endif]>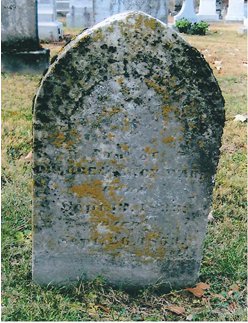 Grave of Joseph Scott Ware - Photos taken by James and Judy Ware 2010
Nancy and George had a total of 10 children; quite a house full. In the family records of Mary Simpson, courtesy of L. F. Shropshire, which are kept on file in the Hayes Library, it is stated, "the children of George Ware and Nancy Ferguson Ware were: Elizabeth Catherine Ware, Mary Webb Ware, James Ware, Anne Ware, Abraham Ware, George Clifton Ware, Charles William Ware, John William Ware, Lucy Arabella Ware, and Joseph Scott Ware." The age gap between their first child, Catherine, and baby Joseph was 20 years. Nancy was 43 years old at the time of her last pregnancy, and George was 54.
*** It is of interest to note that in the book entitled Virginia Genealogies, written by Rev. Hayden, he mentions in the back (under errors) that he mistakenly listed the children of George and Nancy Ware under Catherine Scott. That has often confused other researchers. The information in this chapter is taken from court records and two family bibles.
George was very busy during those years with Nancy. He was "appointed overseer of Cleveland's Landing Road towards Bourbon from Estes' tavern to the Bourbon line, in place of Jeremiah White." (1044A) Just as with his brother, Charles Ware, George also served in the capacity of a county commissioner. It was usually the custom for all commissioners to work as a group of three men. The following are some of the cases that he worked on over the years (Ref. 1043B):
George Ware and Isaac Webb served as Commissioners on Nov. 5, 1819 in examining the accounts for the estate of Francis Hodges deceased.
Examination & settlement of the accounts concerning the estate of Peter Troutman deceased by George Ware on May 18, 1821 recorded in June court 1821
Examination of the accounts pertaining to the estate of Thomas Moxley deceased by George Ware on Feb. 20, 1822
Inventory of the estate of John Hutsell, deceased, on Nov. 27, 1822 by George Ware
Examination of the accounts of John Hedges as executor of the estate of Peter Troutman, deceased, on Nov. 27, 1822 by George Ware and two others
Inventory of the personal estate of Stockley Coleman deceased, by George Ware, June 23, 1821
Inventory of the personal property & slaves of William Davis, deceased, Sept. 23, 1823 by George Ware
Division of the real and personal estate of Thomas Moxley, deceased, among his legatees Oct. 18, 1823 by George Ware
George spent a lot of time improving the Ware property with his father. He had the help of the following slaves, who along with his family, were members of the David's Fork Baptist Church: Charlotte, Caty, Alsy, Jane, George, and John (Ref. 965, 2004) In a letter by Cornelia Anker, she wrote, "This branch of the family were members of the Baptist church." (Ref. 2)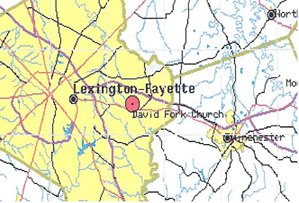 Map showing David's Fork Church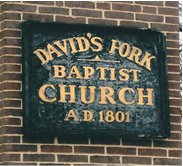 <![if !vml]> <![endif]> Sign in front of the church
As previously mentioned, the growth of religion in Kentucky at this time took such a major leap that the need for new churches could hardly be met. "A decade of debates over schedules and use of dual meeting houses ended when Bryan's Station Church granted letters of dismission to 294 members for the purpose of constituting a separate church. On Wednesday, Aug. 26, 1801, the Upper Meeting House was at last set apart as David's Fork Church." (Ref. 965)
This was the same church that Polly and Charles Webb first attended, before changing over to the Disciples of Christ, and many of the letters sent back to family in Virginia had a return address on them of David's Fork.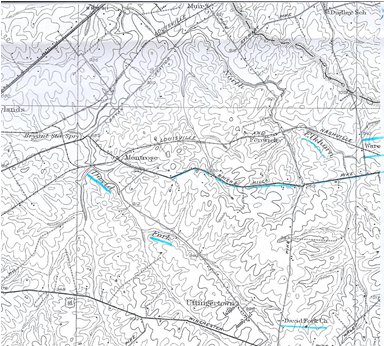 <![if !vml]> <![endif]> Map showing David Fork Church & "Ware" in Fayette County, Kentucky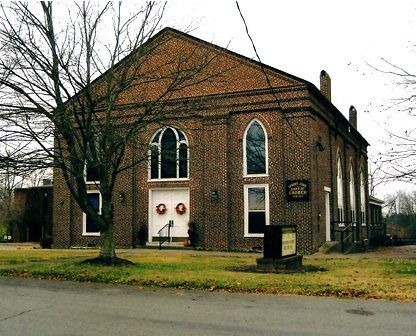 David's Fork Church
Photo taken by James and Judy Ware 2010
George and Nancy had 37 years of marriage together, with Nancy dying less than two months after George. Since we know that "George Ware, of near David's Fork meeting house, died of cholera on Saturday, July 28, 1849," it would seem safe to assume that Nancy's death on Friday, September 14, 1849, could possibly have resulted from cholera as well. (Ref. 940, 975, 1069)

Death notice for George Ware (Ref.1069)
George was 71 at the time of his death and Nancy was 59. Both were buried in the Lexington Cemetery. (Ref. 975) It was through the line of George and Nancy that the property of James and Caty Todd Ware stayed in the family. The roots on the family tree were now planted deep.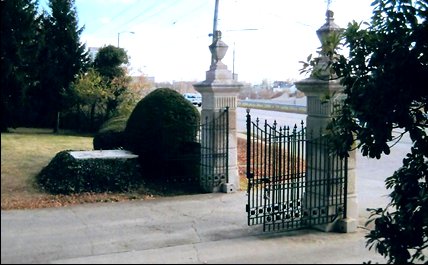 Entrance into Lexington Cemetery
Supporting documents for chapter 11
Graves located in Lexington Cemetery
<![if !vml]> <![endif]>Grave of George Ware
<![if !vml]>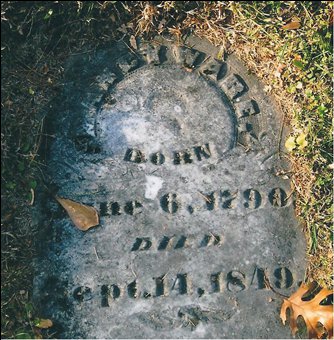 <![endif]>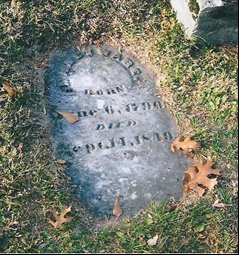 Grave of Nancy Ware
Photos taken by James & Judy Ware - 2010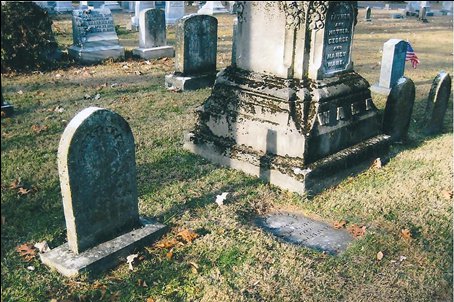 Placement of original graves of George and Nancy Ware in relation to the larger monument placed for the both of them later.
<![if !vml]>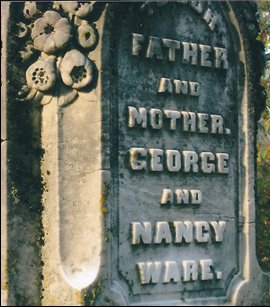 <![endif]>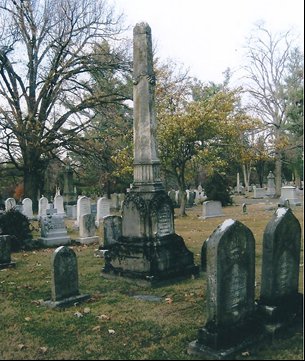 All cemetery photos taken by James & Judy Ware in 2010
Lexington Cemetery<![if !vml]><![endif]>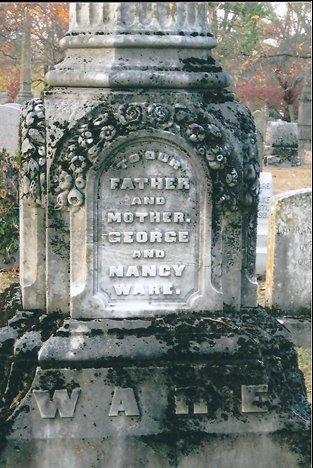 Monument for George and Nancy Ware placed by their children
The grave markers in front of the tall monument are for some of their children.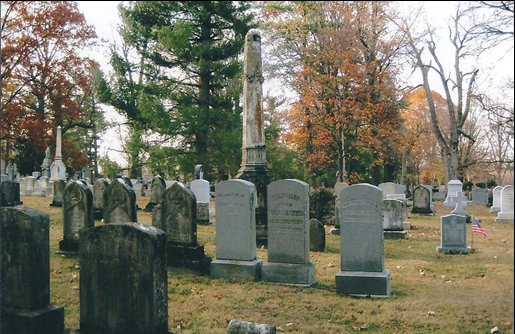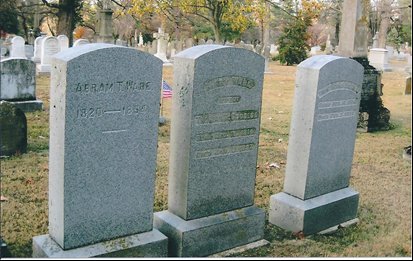 Graves of Abram Ware, Mary Ware Goodloe, and Thomas Woods Goodloe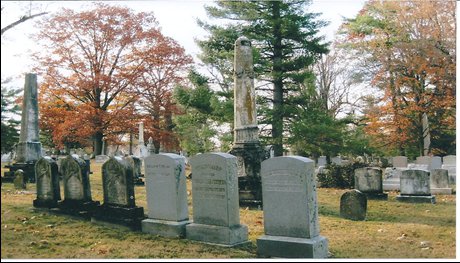 Family section in the Lexington Cemetery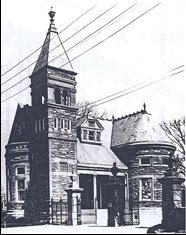 Lexington Cemetery located on West Main Street was founded in 1849.
The land that George inherited from his father, James Ware II, was then passed on to Abram Ware. A lot of his Abram's siblings and cousins lived nearby. The map below reflects the Didlake and Shropshire names.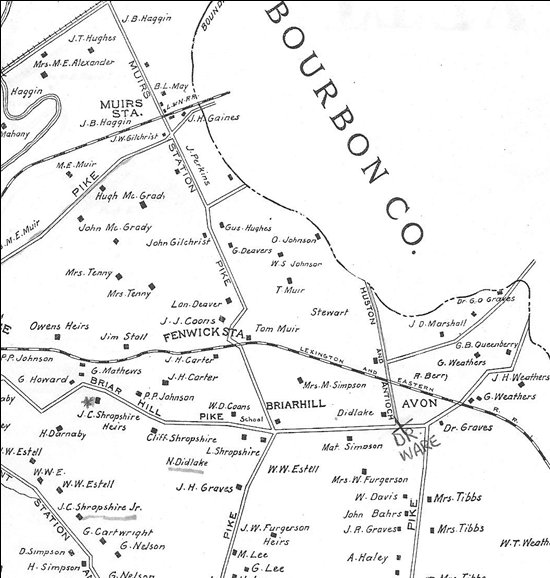 Map showing the property originally settled by James and Caty Todd Ware, which passed to their son, George Ware, and eventually to his son, Abraham T. Ware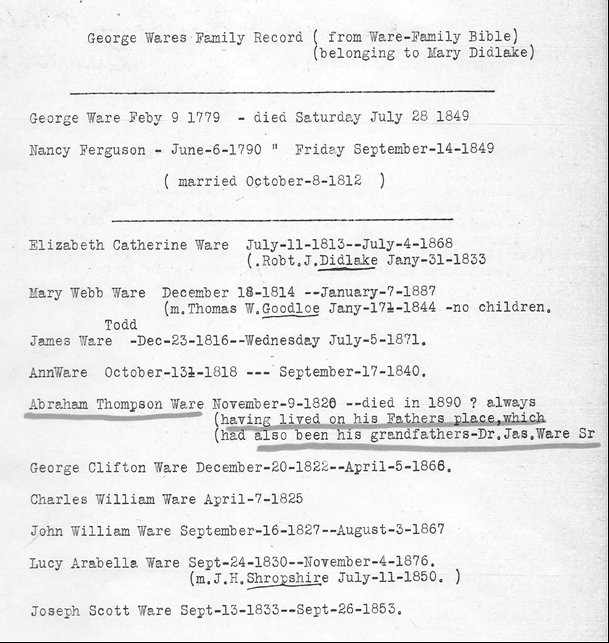 Ware family bible owned by Mary Didlake - > Courtesy of Kentucky Historical Society
CHILDREN OF:
GEORGE WARE & NANCY FERGUSON WARE
B. Feb. 9, 1779 B. June 6, 1790
D. July 28, 1849 D. Sept. 14, 1849 (Friday)
George Ware was the youngest son of James Ware II and his wife, Caty Todd Ware, and also the grandson of James Ware I and his wife, Agnes Todd Ware. He married Nancy Ferguson on October 8, 1812. George and his wife lived on the property his father (Dr. James Ware II) settled on in Kentucky and later they passed the same land on to their son, Abram.
(1) Elizabeth Catherine Ware
Born July 11, 1813 Died July 4, 1868
Married Robert Didlake on Jan. 31, 1833
(2) Mary Ann Webb Ware
born Dec. 18, 1814 died Jan. 9, 1887
Married Thomas Woods Goodloe on Jan. 17, 1844
(3) James Todd Ware
born Dec. 23, 1816 died July 5, 1871
(4) Ann Ware
born Oct. 13, 1818 died Sept. 12, 1840
(5) Abraham (Abram) Thompson Ware
born Nov. 9, 1820 died March 14, 1894
(6) George Clifton (Clifton) Ware
born Dec. 29, 1822 died April 5, 1866
(7) Charles William Ware
born April 7, 1825
(8) John William Ware
born Sept. 16, 1827 died Aug. 3, 1867
(9) Lucy Arabella Ware
born Sept. 24, 1830 died Nov. 4, 1876
Married James Hutchison Shropshire on July 11, 1850
(10) Joseph Scott Ware
born Sept. 13, 1833 died Sept. 26, 1863