Washington Sugar Bowl Goes Back Home
By Judith C. Ware, March 2008
© Judy C. Ware
---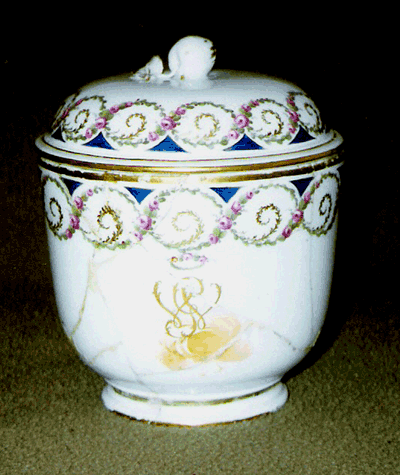 I first started working on the Ware genealogy in 1973 when my husband's family passed along to us some beautiful items that had been in the family for generations. There were stories, myths, and a lot of oral history that accompanied these pieces. There were also boxes and boxes of old letters and books that held a wealth of information as well, but my in-laws had simply never felt the urge to sift through the mounds of material. They were delightful, wonderful people who simply had not been bitten by the genealogical "bug."

They were, however, interested in preserving these items and holding onto them for future generations. When I expressed an interest in doing a family history, they lovingly and generously handed it all over to me. I will be forever grateful to them for that because it opened up a world of research and fact finding that has remained my passion for all these years.

My first goal was to transcribe the many letters that had been stored in various places; ranging from boxes in an old barn to inside the moldy pages of antique books. It was quite a task as the handwriting was so different for each person and as I quickly discovered, I was sitting on a gold mine of historical material that went back much further in time than anyone had ever suspected.

Some of the letters were deteriorating rapidly and just unfolding them was a hazard. The paper was frail, the ink often faded, and it didn't take much to have them fall apart in my hands. I quickly decided to scan the originals and use the copies for my transcription purposes, therefore limiting the time I had to handle them. Once they were safely scanned and copied, they were put in airtight sealed bags to try and stop the aging process. This part of the research journey took many years as I was also raising a family during that time.

With each new discovery, I grew more and more excited with what was unfolding in front of me. As a young bride, I had enjoyed the privilege of knowing one of the elderly aunts in the family who had been a member of the Daughters of the American Revolution. It wasn't until after her death, however, that I came to fully understand that she had been bitten by this same "bug" that affects me now. (We genealogists are an odd lot – we love to roam through old cemeteries and attics, and nothing excites us more than finding that missing piece to the family puzzle that has previously eluded others.) I owe a lot to Sarah Ware for she laid much of the groundwork for my own exploration. In short, I felt the torch had now been passed to me.

Herein lay the history of the Washington sugar bowl.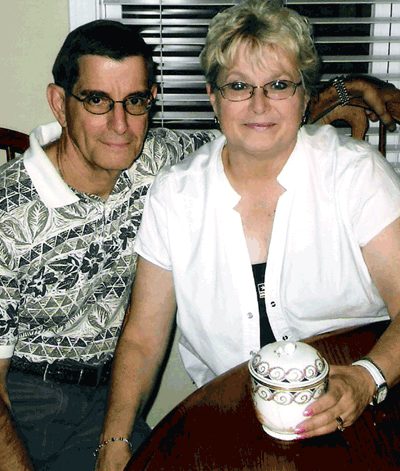 One of the antiques given to us was a small, odd shaped bowl with a lid. It was obviously very old and had been broken at some point and glued back together. It had a strange design on the front that almost looked like a smudge and two letters that were elaborately entwined together. It was relayed to me that the oral history accompanying this piece declared that it had once been owned by George and Martha Washington. My mother-in-law felt this was pretty unlikely as she knew of no link with the Washington family and she felt that the odds of something that historical surviving all those years was pretty slim. Prior to giving the piece to us, she had used it to store paper clips and pencils.

I must admit that I didn't hold much credence to the story myself at first. Then as research unfolded and more & more material came to light, I found to my amazement that there actually was a link between the Ware family and President Washington! One of our ancestors had actually married a favorite nephew of George who also happened to be Martha's great great grandson. Josiah Ware's youngest daughter (Lucy Balmain Ware) married Edward Parke Custis Lewis on March 23, 1859.

Edward was the son of Lorenzo and Maria Lewis. Lorenzo was the son of Lawrence and Nelly Custis Lewis. (Not only was Nelly the granddaughter of Martha & George, but her husband Lawrence was George's nephew - the son of his sister, Betty.) Nelly was the daughter of Jacky & Eleanor Custis, and Jacky was Martha's only child who lived long enough to have children. (George and Martha never had any children together, but Washington adopted her son and daughter from her first marriage.) Our connection came through the union of Edward and Lucy Balmain Ware. They only had one child together who survived to adulthood and on a subsequent trip to Mount Vernon, I later saw several articles in the museum that had been donated by their daughter.

Needless to say, my curiosity over the bowl rose considerably. I discovered in one of the old boxes the actual marriage license of Edward Parke Custis Lewis and Lucy Balmain Ware. There were also letters written by Lucy while she and Edward lived at Audley – the Washington/Lewis home in Berryville, Virginia where Nelly died. She made several references to the Washington family in her letters. In addition to that, there were several letters written from Josiah Ware (our direct descendant and Lucy's father) to President Rutherford B. Hayes regarding items of George Washington that he personally owned. Suddenly the likelihood of the cup belonging to Washington and finding its way into the Ware family didn't seem so far-fetched!

In doing further research among all the paperwork I had, I came across the last will and testament of Lucy Ware Lewis McCormick – the only surviving child of Edward and Lucy. She made specific donations to Mount Vernon of items belonging to Washington that she had inherited from her parents. She also bequeathed several of these treasures to her own family members. Sadly, Lucy Lewis McCormick had no living children toward the end of her life, so a lot of these items went to her cousins and a favorite aunt. I had found one more piece to the puzzle.

Just a few years ago, I was delving through some books and I came across one entitled George Washington's Chinaware written by Susan Gray Detweiler. As I thumbed through the pages, I came across a photo that made my heart skip a beat. There, in the book in front of me, was an exact picture of the bowl I had at home – only this pattern was in pink not blue. As I turned the page, I saw another set of the identical china in the blue pattern!

I read the history of the china and discovered that the two letters I had seen entwined were a G and a W, and the little pink "smudge" I had noticed was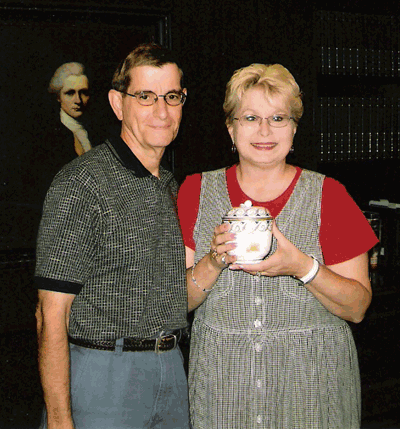 actually a cloud design that was often used to deify Washington. The little bowl with the lid (which had been called everything from a stirrup cup to a shaving mug over the years) was actually a sugar bowl and part of a complete set of china given to George and Martha Washington by Count de Custine of France. According to the book, "Count de Custine Sarreck was commander of one of the regiments in Rochambeau's army in the American campaign of 1780 through 1782. He was also proprietor of the porcelain factory at Niderviller near Strasbourg. After visiting the Washington home, Custine sent a gift of a very beautiful porcelain service to them. It is the single known instance of eighteenth-century porcelain personalized for an American recipient by its French manufacturer."

Susan Detweiler went on to say that "the unifying element in the decoration is the central 'GW' cipher on a cloud beneath a wreath of roses. The painted number occurring next to the Count's cipher on the bottom of each piece correlates with its border pattern. The dishes were presented to Mrs. Washington at Mount Vernon on July 20, 1782, and were probably decorated in France just before the titled porcelain manufacturer embarked with his regiment to fight in the American Revolution."

I decided to call Mount Vernon and tell them of the sugar bowl in our possession and see if they knew anything about it. The head of the museum was a lovely lady who asked me to describe it and also to look for the identifying cipher on the bottom. When I told her what was there, she gave a gasp and said, "You have the missing sugar bowl!" Apparently, the historians at Mount Vernon had been collecting as many pieces of Washington's china as they could, and although this particular pattern had a few cups, saucers, a teapot, and a nice creamer, it was missing the sugar bowl. There had been much speculation of where it could be or if it was even still in existence. Needless to say, she was thrilled that the bowl had finally been located, and I was thrilled to know that all the research and hard work had paid off.

In the spring of 2007, my husband and I traveled to Mount Vernon and presented the museum curator with the infamous sugar bowl. With total awe, she placed soft gloves on her hands and very carefully held it up to look at it. We all cringed a little just thinking of the years it had sat neglected; holding paper clips and pencils.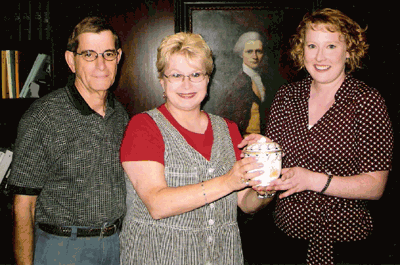 Jim and I had already decided that (although we are extremely proud to own it) it belongs in a place that can protect it and preserve it. Ultimately, we feel it is a piece of history that belongs, not to us, but to the ages.

After signing some official paperwork, we had our pictures taken (holding the sugar bowl for one last time) and we both felt as if history had come full circle. On our way out, we decided to tour the museum and see the china display that the curator had told us about on the phone. It was a surreal experience. Behind the glass windows, soft light reflected on delicate porcelain dishes that had (at one time) actually known the warmth of George & Martha Washington's hands. There, in the very front, stood a tall, clear pedestal that held a china creamer. Right beside it was a matching pedestal – empty . . . waiting for its missing counterpart. It would be empty no longer. It was a good feeling to know that the Washington sugar bowl had finally found its way back home.

Reference: GEORGE WASHINGTON'S CHINAWARE by: Susan Gray Detweiler with a prologue and epilogue by Christine Meadows Harry N. Abrams, Inc., Publishers, New York

A Barra Foundation/Mount Vernon Ladies' Association Book

Copyright 1982
---