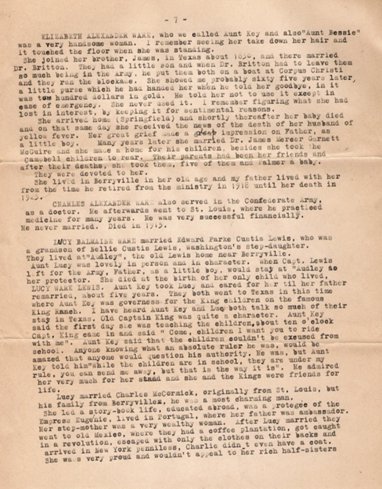 Original page 7
40.

ELIZABETH ALEXANDER WARE, who we called Aunt Key and also "Aunt Bessie," was a very handsome woman. I remember seeing her take down her hair and it touched the floor when she was standing.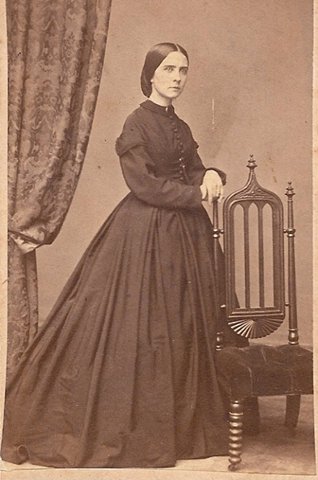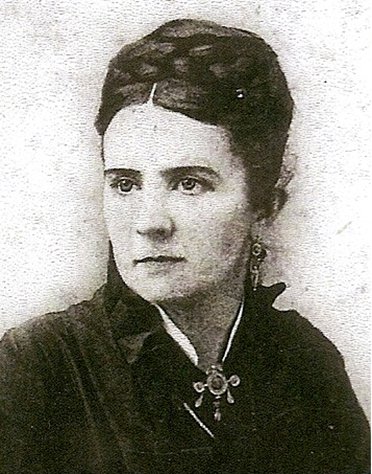 You can see how long her hair was just by the braid in the later photograph.
41.

She joined her brother, James, in Texas about 1858, and there married Dr. Britton. They had a little son and when Dr. Britton had to leave them so much being in the Army, he put them both on a boat at Corpus Christi and they ran the blockade. She showed me, probably sixty five years later, a little purse which he had handed her when he told her goodbye, in it was two hundred dollars in gold. He told her not to use it except in case of emergency. She never used it. I remember figuring what she had lost in interest, by keeping it for sentimental reasons.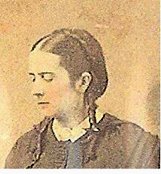 Elizabeth Alexander Ware married Dr. Edward Wharton Britton, a prominent physician in Galveston, Texas on March 10, 1864. "By the end of that year, Elizabeth (often called Bessie, Kee, or Key) had delivered a baby boy whom the couple named after her beloved father. Sadly, little Josiah Ware Britton was destined to live only one year. Since Dr. Britton had to be gone so much during the war, he wanted his wife and child to be safe with her family." (Ref. 3003) When an outbreak of yellow fever hit the area, Edward made quick arrangements for Elizabeth to get back to Springfield by ship - running the blockade out of Corpus Christi, Texas.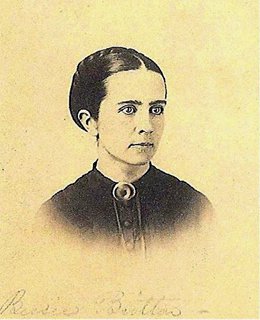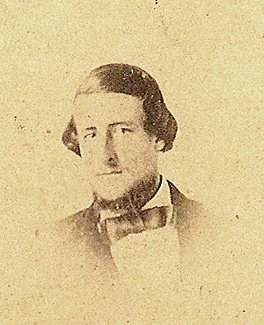 Elizabeth Alexander Ware Britton and Dr. Edward Wharton Britton
42.

She arrived home (Springfield) and shortly thereafter her baby died and on the same day she received the news of the death of her husband of yellow fever. Her great grief made a deep impression on Father, as a little boy. Many years later, she married Dr. James Mercer Garnett McGuire and she made a home for his children, besides she took the Campbell children to rear. Their parents had been her friends and after their deaths, she took them, five of them and Palmer a baby. They were devoted to her. She lived in Berryville in her old age and my father lived with her from the time he retired from the ministry in 1918 until her death in 1925.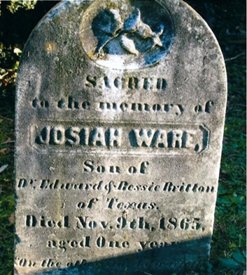 Grave for the infant son of Bessie and Edward Britton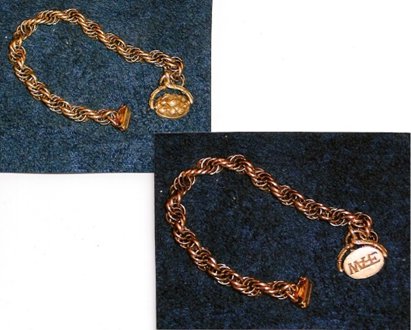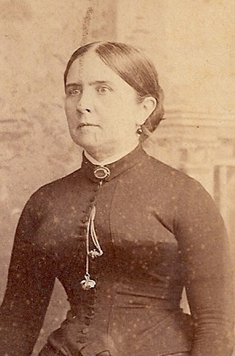 The beautiful necklace Elizabeth is wearing is actually a gold stamp used for sealing wax on letters. The markings spell out "Ware" once applied.
On March 29, 1925, Elizabeth Alexander Ware Britton McGuire died of influenza at the age of 87. Her death occurred on a Sunday morning at 10:00. (Ref. 58) Funeral services were held in Grace Episcopal Church and she was buried in the cemetery there. There is a stained glass window in the sanctuary that was placed in her memory.

43.

CHARLES ALEXANDER WARE also served in the Confederate Army, as a doctor. He afterwards went to St. Louis, where he practiced medicine for many years. He was very successful financially. He never married. He died in 1915.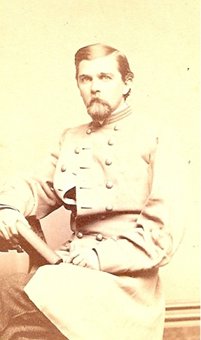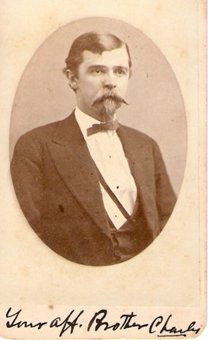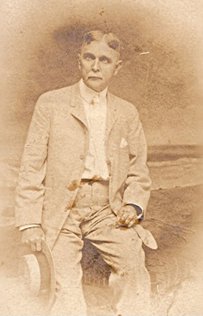 All photographs of Charles Alexander Ware owned by James and Judy Ware
The following information is taken from
The Biography of Dr. Charles Alexander Ware
written by Judy C. Ware in 2007.
"Charles joined the Confederate army as a private and first served in the cavalry under the renowned J.E.B. Stuart. He later (after the Second Battle of Manassas in 1862) transferred over to the medical corps when General Lee put out a specific request for medically trained people. With the rank of Captain, he was appointed Surgeon in Charge of Dr. Boyd's church in Winchester [which was serving] as a hospital. (Ref. 205) He also served as a surgeon in McClanahan's Battery and Head Surgeon for Imboden's Corps. (Ref. 34) Dr. Ware was captured with the wagon train of wounded after the Battle of Gettysburg and sent to Fort Delaware. (Ref. 171) He was exchanged a few months later and returned to the war, serving as a surgeon in Lomax's Cavalry Division. It was from this assignment that he was paroled on April 18, 1865, at the cessation of the war."
"After his long career practicing medicine, Dr. Ware finally retired in St. Louis, Missouri. He still continued to do small cases on the side for as long as he could. In a letter dated in 1913 he wrote that patients "find me way out here, one or two every day - thereby enabling me to make enough for expenses." (Ref. 42)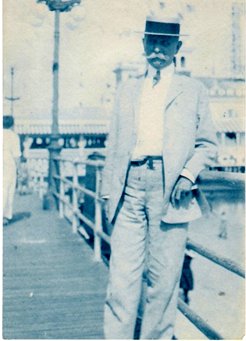 Dr. Charles Alexander Ware
Photo owned by James & Judy Ware
"In October of 1915, Charles wrote his sister that the doctors in St. Louis had informed him that he 'had arterial sclerosis of the heart and coronary artery.'" (Ref. 346) His letter showed exceptionally weak handwriting, and it was obvious that his health was failing. He somehow managed to travel back to Virginia to be with his sister though, and died on December 23, 1915 at her home." Charles is buried in Grace Episcopal Church Cemetery."
44.

LUCY BALMAINE WARE married Edward Parke Custis Lewis, who was a grandson of Nellie Custis Lewis, Washington's step-daughter. They lived at "Audley", the old Lewis home near Berryville. Aunt Lucy was lovely in person and in character. When Capt. Lewis left for the army, Father, as a little boy, would stay at "Audley" as her protector. She died at the birth of her only child who lived.
CORRECTION: As mentioned before, Lucy's middle name was Balmain – in honor of Reverend Alexander Balmain.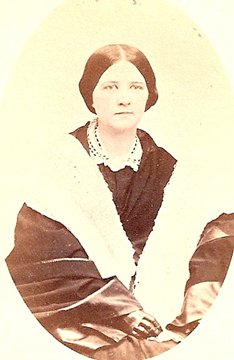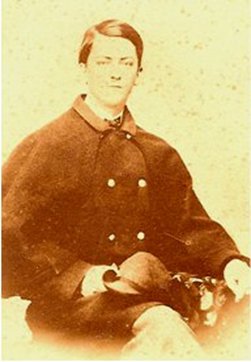 Lucy Balmain Ware - Edward Parke Custis Lewis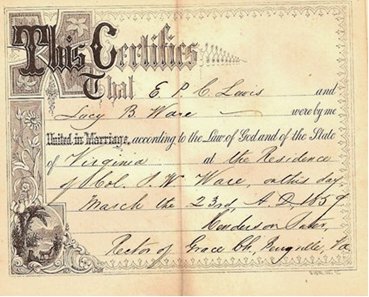 Wedding
License for E.P.C. Lewis and Lucy B. Ware – owned by James and Judy C. Ware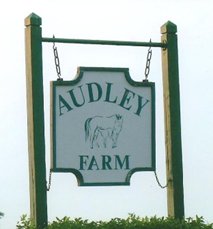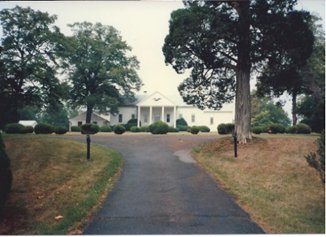 Audley
Lucy had such a sad life after her marriage. She and Edward (whom she called Ned) had several children, but none of them lived very long. On July 25, 1859, Lucy gave birth to the first of her five children. They named the little girl Eleanor Angela Lewis. She only lived seven short months before dying on February 18, 1860. In 1861, Lucy and Edward welcomed their first son, named Lawrence Fielding Lewis, but he never survived infancy. The same thing happened in 1862 when Lucy delivered another baby boy. This son they named John Glassell Ware Lewis but again, the infant did not survive. In August of 1864, a healthy baby boy was born. The couple named their son Edward Parke Custis Lewis, after his father. The following is an excerpt from Ware Connection to Grace Episcopal Church written by Judy C. Ware:
"The couple's happiness would only last 19 months however, for little Eddy died on March 22, 1866. What an incredible mixture of emotions must have flooded poor Lucy. To lose a fourth child was almost too much to bear and yet, at the very time of his death, she was pregnant with (what would be) her last baby. One can feel the depth of her sorrow and worry in letters that were written just shortly before she gave birth in August.
On May 17, 1866, just two months after burying her fourth child, she wrote the following to a cousin:
"My seeming neglect of your kind affectionate letters has been a source of great annoyance to me, but the truth is I have not had the heart to write to anyone. I feel that my letters must always be so sad as there is not much sunshine in my heart now since my Darling one was taken. It is the fourth one we have been called to give up – after they had entwined themselves, each one in succession, around the hearts of us all, oh so fondly, and indeed of everyone who knew them. Little Eddy was known everywhere and his little sayings and doings were copied and repeated by all who knew him, old and young. I try to bear it all as well as I can for the sake of other loved ones around me. I find I must learn to kiss the rod that smites. "Thy will be done" and submission are two of the hardest tasks to be felt and learned in the school of affliction." (Ref. 227)
"Lucy's uneasiness about the impending birth of her next child proved to be all too prophetic. A baby daughter was born on August 26, 1866, just three months after little Eddy was buried. The little girl was named Lucy Ware Lewis, in honor of her mother. This was the only child of Edward and Lucy's who would survive childhood, marry, and have a family of her own. Tragically, her mother never got to witness it. Lucy Balmain Ware Lewis died on August 26, 1866, at the birth of this last child. Her sister, Elizabeth, stepped in to care for the new baby until Ned remarried a few years later." (Ref. Judy C. Ware)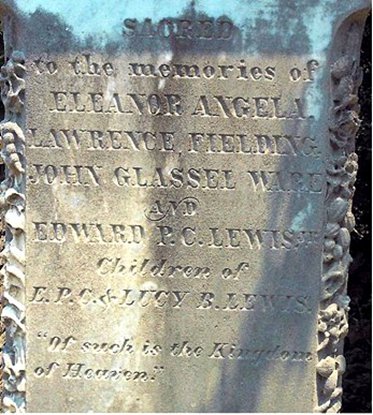 Grave for the children of Lucy and Edward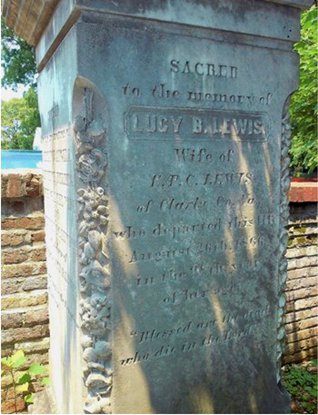 Grave for Lucy Balmain Ware Lewis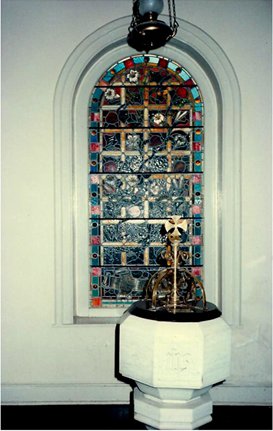 A stained glass window and memorial was placed for Lucy and Edward and their children in the baptistry of Grace Episcopal Church
45.

LUCY WARE LEWIS – Aunt Key took Lucy and cared for her til her father remarried, about five years. They both went to Texas in this time where Aunt Key was governess for the King children on the famous King Ranch. I have heard Aunt Key and Lucy both talk so much of their stay in Texas. Old Captain King was quite a character. Aunt Key said the first day she was teaching the children, about ten o'clock, Capt. King came in and said "Come, children, I want you to ride with me." Aunt Key said that the children couldn't be excused from school. Anyone knowing what an absolute ruler he was would be amazed that anyone would question his authority. He was, but Aunt Key told him "while the children are in school, they are under my rule, you can send me away, but that is the way it is." He admired her very much for her stand and she and the Kings were friends for life.
Elizabeth Ware Britton, Lucy's sister, had just buried her own son a year before Lucy died. She gladly took baby Lucy for the next three years until Edward remarried in 1869. At that point, Lucy went to live with her father and new step-mother.
Elizabeth did, indeed, go to the King Ranch to work as a governess for the children of Captain Richard King and his wife, Harriett. Her brother, James, had known the King family well before the war. In fact, James had played an integral role in the protection of the "Cotton Road" and helping Capt. King with his investments.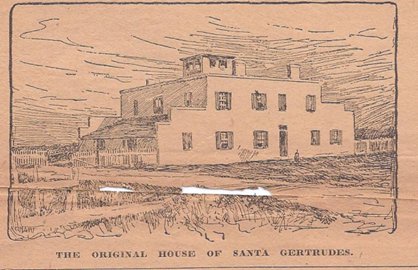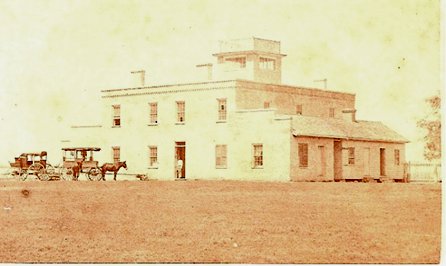 Original pictures of the King Ranch – owned by James and Judy C. Ware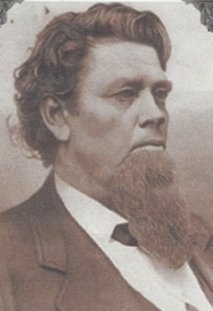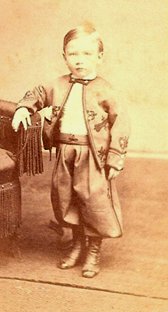 Capt. Richard King Robert E. Lee King
Photo owned by James and Judy C. Ware
The son of Richard and Henrietta in the above picture died in 1883 of pneumonia.
46.

Lucy married Charles McCormick, originally from St. Louis, but his family from Berryville. He was a most charming man. She led a story-book life, educated abroad, was a protégé of the Empress Eugenie, lived in Portugal, where her father was ambassador, went to Old Mexico where they had a coffee plantation, got caught in a revolution, escaped with only the clothes on their backs and arrived in New York penniless. Charlie didn't even have a coat. She was very proud and wouldn't appeal to her rich half-sisters and . . . (continued on next page)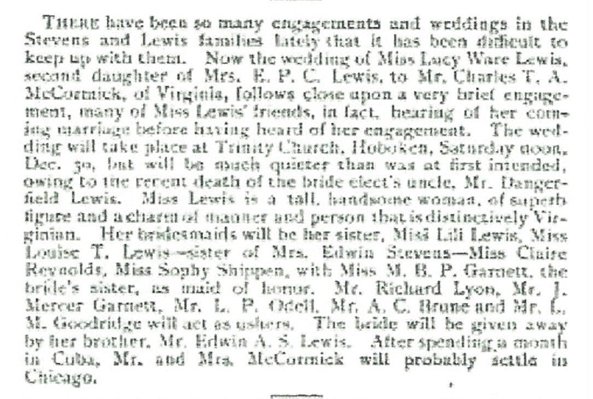 Wedding announcement for Lucy Ware Lewis and Charles Treadwell Ayres McCormickrmick
There have been so many engagements and weddings in the Stevens and Lewis families lately that it has been difficult to keep up with them. Now the wedding of Miss Lucy Ware Lewis, second daughter of Mrs. E.P.C. Lewis, to Mr. Charles T. A. McCormick, of Virginia, follows close upon a very brief engagement, many of Miss Lewis' friends, in fact, hearing of her coming marriage before having heard of her engagement. The wedding will take place at Trinity Church, Hoboken, Saturday noon, Dec 3rd, but will be much quieter than was at first intended, owing to the recent death of the bride elect's uncle, Mr. Dangerfield Lewis. Miss Lewis is a tall, handsome woman, of superb figure and a charm of character and person that is distinctively Virginian. Her bridesmaids will be her sister, Miss Lili Lewis, Miss Louise T. Lewis – sister of Mrs. Edwin Stevens – Miss Claire Reynolds, Miss Sophy Shippen, with Miss M. B. P. Garnett, the bride's sister, as maid of honor. Mr. Richard Lyon, Mr. J. Mercer Garnett, Mr. L. P. Odell, Mr. A. C. Brune and Mr. L. M. Goodridge will act as ushers. The bride will be given away by her brother, Mr. Edwin A. S. Lewis. After spending a month in Cuba, Mr. and Mrs. McCormick will probably settle in Chicago.