Transcription of 1861 Note from
Maj. General William H. Richardson to Josiah Ware
Transcribed & researched by Judy C. Ware
© Judy C. Ware March 2009
Original Letter owned by Jane & Scott Dudgeon
---
Adjutant General's Office May 9, 1861
My Dear Sir:
Yours of 6th at hand. You do me great injustice in supposing that I had no inclination to commune with you. I think you might have seen that I had no time to commune with anybody.
It is not necessary to remark upon the botch at Harper's Ferry. I am not responsible for it - God knows.
All I can do is present your very sensible and very military views to the governor.
Very truly your friend,
William H. Richardson
Col. JW Ware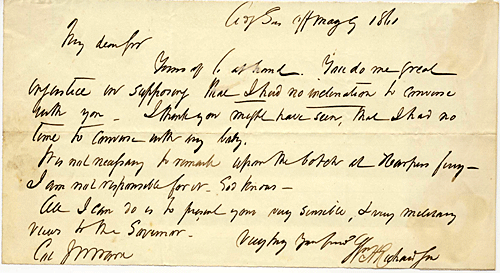 *** This was obviously not a very happy letter written to Josiah concerning the events at Harper's Ferry.

General Richardson was the state Adjutant General whose functions were restricted to the militia.
According to the History of Virginia Volunteer Forces, a site maintained by Robert C. Moss, III, the following is said of Richardson:
"
Under an ordinance adopted by the Convention on April 21, and amended on the 24th, the adjutant general's, quartermaster's, subsistence, medical, and pay departments, and an engineer's corps, were set up. The Adjutant General's Department was distinct from the office of the State's Adjutant General,
William
H. Richardson
, whose functions were restricted to the militia.
General
Richardson
, however, occasionally signed for General Lee as Assistant Adjutant General."
***I would like to thank Jane & Scott Dudgeon for allowing me to copy & transcribe this letter for my historical research. I am deeply grateful.